Broderick, Lee and Brown, Lisa and Cotter, John and Donnelly, Mike and McIntyre, Lauren and Meen, Julia and Poole, Cynthia and Scott, Ian and Shaffrey, Ruth and Stafford, Elizabeth and Bradley, Matt and Davies, Alex Shinfield West Post-Excavation Assessment and Updated Project Design. [Client Report] (Unpublished)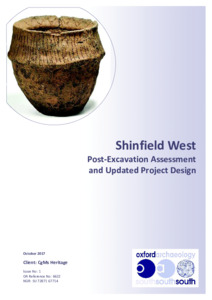 Preview
PDF




SHW16_PXA.pdf


Download (8MB) | Preview
Abstract
Oxford Archaeology (OA) was commissioned by CgMs Heritage to undertake an archaeological excavation of the site of a proposed housing development at Shinfield West, Berkshire, centred on SU 72871 67714. The excavation took placed between May and September 2016. Four areas were opened totalling 4.5ha.
The excavation revealed a palimpsest of activity that spanned prehistory to the late post-medieval periods. A landscape of field systems, waterholes, pit clusters, post structures, and a ring ditch were revealed.
The earliest features included a ring ditch of a Bronze Age barrow (burial mound) measuring 11m in diameter. At the base of the ditch a significant amount of charred oak wood was found. Cremated human remains of a probable male were discovered in a pit cut into a tree-throw hole, centrally placed within the ring ditch. A complete upturned Collared Urn was found immediately above the cremated remains, although no further grave-goods were discovered. A second cremation burial was found 6m to the north of the outer edge of the ring ditch. Bone from both of the cremations was submitted for radiocarbon dating, and almost identical dates in the 19th- to 18th-centuries cal BC were returned. A few possible Grooved Ware and Beaker sherds associated with the ring ditch hint at earlier phases of activity on the site, and flint dating to the Mesolithic period was found in later contexts.
A solitary pit containing a very small amount of burnt bone and a fired clay perforated block or loomweight was the only evidence belonging to the middle Bronze Age. Two clusters of intercutting pits dating to the early Iron Age were found, alongside a dispersed arrangement of four-post structures, at least one also dating to the early Iron Age. No certain roundhouses were discovered. An unusual find from an early Iron Age pit was a pottery sherd impressed with an animal paw print, possibly from a cat.
A large number of linear ditches were excavated, representing at least four separate field systems. Dating evidence for these was meagre, although two of these systems belong to the post-medieval period. The remaining two are undated, although one stratigraphically post-dates the early Bronze Age, and the other is later than the early Iron Age. Also uncovered were a 17th- to 18th-century barn and a 19th-century outbuilding.
Actions (login required)