Smith, Kirsty and Allen, Martyn and Booth, Paul and Cook, Sharon and Cotter, John and Donnelly, Mike and Bradley, Matt and Chard, Diana and Rousseaux, Charles Nastend, Eastington, Gloucestershire. [Client Report] (Unpublished)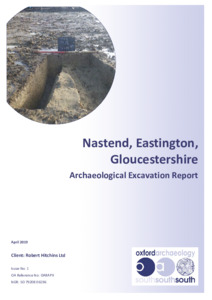 Preview
PDF




OARA18_Excavation_Report.pdf


Download (2MB) | Preview
Abstract
Oxford Archaeology undertook an archaeological excavation at Nastend, Eastington,
Gloucestershire in November and December 2018. Previous geophysical survey and
evaluation had indicated that part of a complex of enclosures dating from the Iron
Age and Roman period lay within the site. The excavation uncovered a pit containing
a prehistoric worked flint, and more extensive evidence for occupation during the late
Iron Age/early Roman period and up to the 2nd century AD. Three phases of
enclosure were identified within the area of the site including a late Iron Age phase,
an early Roman phase (AD 50-120) and 2nd century phase (AD 120-200). The exact
form of the late Iron Age/Roman enclosures was unclear as much of the central and
northern part of the site appeared to have been truncated by modern ploughing. The
truncation of the site had also removed any internal features of the enclosure
although a piece of fired clay with a wattle impression found in a late Iron Age ditch
suggested the presence of an oven structure nearby. Several environmental samples
indicated that wheat was grown locally during the late Iron Age and during the 2nd
century. The animal bone from late Iron Age/Roman contexts indicated the presence
of cattle and sheep/goat remains with fewer specimens of pig, horse, dog and rodent.
The pottery from the site consisted mainly of Malvern area fabrics in the late Iron
Age, while Severn Valley ware was subsequently dominant. The Seven Valley ware
includes two vessels which were clearly 'seconds'. These appear to be identical in
fabric to a similar 'second' or waster vessel from Hunts Grove, Quedgeley, located
5km north of the site. This may indicate that there was a relatively local production
of Severn Valley pottery in the area.
Three sherds of intrusive medieval pottery were found within the Roman ditch groups
205 and 204. These may have originated from a medieval furrow which itself had
probably been truncated.
Actions (login required)