Webb, Robin (2019) Land South of Mildenhall Road, Fordham, Cambridgeshire. [Client Report] (Unpublished)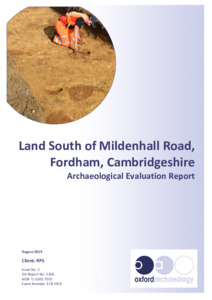 Preview
PDF




OAE_Report 2358_FORMHR19_FINAL_LR.pdf


Available under License Creative Commons Attribution Share Alike.
Download (7MB) | Preview
Abstract
Between the 8th and 15th of July 2019 Oxford Archaeology East conducted an archaeological evaluation on land to the rear of nos. 98 to 118 Mildenhall Road, Fordham, Cambridgeshire (centred on TL 6397 7070).
The evaluation consisted of 14 trenches that were excavated within an area of proposed residential development, covering 3% of a c.4.1ha area. This was increased to 3.6% with the extension of Trenches 4 and 6. The site was located on flat ground on the eastern edge of the village with the Snail Valley to the south-west.
The earliest remains revealed within the trenches were natural hollows, with associated earlier Neolithic worked flint and pottery, in the eastern two thirds of the site. Ditches probably associated with medieval and post-medieval field strips were evident across the site, while a grouping of nine undated postholes were found in the middle of the site, and three shallow depressions with gravel embedded in their bases on the western edge.
Only a small finds assemblage was recovered from the site, with the majority of the post-medieval artefacts coming from bucket sampling of the subsoil and topsoil of the trenches. Finds included two sherds of prehistoric, probably Early Neolithic pottery, a sherd of Roman pottery, three sherds of post-medieval pottery and a fragment of early modern pottery; a fragment of clay tobacco pipe stem and a fragment of ceramic building material. Worked flint of probable earlier Neolithic date inadvertently incorporated into later features was recovered. The faunal assemblage includes poorly preserved cattle, horse and sheep/goat all recovered from the western half of the site.
Environmental sampling of features across the site revealed only two wheat grains and a grass seed from a natural hollow, alongside snail shells from five samples and charcoal from disturbance within a natural hollow.
Overall the archaeological works have confirmed the presence of limited preserved remains across the site, with the subsoil depth varying greatly across the area whilst the ploughsoil retained a consistent depth. The results of the evaluation provide evidence of the edge of village fields pre-dating and associated with the 1809 Enclosure.
Item Type:
Client Report
Uncontrolled Keywords:
Evaluation, evaluation, archaeological evaluation, Cambridgeshire, cambridgeshire, Fordham, fordham, post hole, posthole, post holes, postholes, natural feature, hollow, ditch, ditches, flint, worked flint, lithic, lithics, lithic remains, pottery, Pottery, pot, ceramic, sherd, late Prehistoric, Late Prehistoric, late Prehistoric pottery, Late Prehistoric pottery, Roman pottery, roman pottery, Post-Medieval pottery, post-medieval pottery, Enclosure Act, agriculture, strip field, strip fields, field, fields, 2358, report 2358, report 2358, OAE report 2358
Subjects:
Geographical Areas > English Counties > Cambridgeshire
Period > UK Periods > Neolithic 4000 - 2200 BC
Period > UK Periods > Post Medieval 1540 - 1901 AD
Divisions:
Oxford Archaeology East
Depositing User:

Hamilton

Date Deposited:
04 Nov 2019 11:32
Last Modified:
04 Nov 2019 11:33
URI:
http://eprints.oxfordarchaeology.com/id/eprint/5540
Actions (login required)