Zant, John (2016) Chester Northgate Redevelopment: Areas B, C and D. Archgaeological Evaluation. Project Report. Oxford Archaeology North. (Unpublished)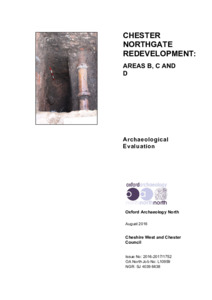 Preview
PDF




L10959_ChesterNorthgate_Areas_BCD_FullReport.pdf


Download (7MB) | Preview
Abstract
Oxford Archaeology (OA) North was commissioned by Chester West and Chester Council to carry out a programme of evaluation trenching and boreholes across an area within the north-western quadrant of the historic city centre of Chester. This programme was undertaken during March and April 2016, comprising the excavation of eight trenches and five boreholes, in three parts of the redevelopment. This work follows, and was informed by, evaluations undertaken by Oxford Archaeology North on behalf of Chester West and Chester Council during April/May 2015. The work was required to inform the design process of the proposed major scheme of redevelopment within the area, by identifying the presence/absence and representative depth (according to
Ordnance Datum), of significant archaeological deposits relating to the former Roman legionary fortress.
The state of the archaeological remains across the present bus station (indeed, whether any significant archaeology survived) in the aftermath of previous redevelopments and
excavations in the early 1980s was unclear and thus three trenches were excavated in this area. The trenching produced important results, establishing that a depth of 600mm
of intact Roman archaeological deposits, as well as structural remains, survive intact and undisturbed. Considered in conjunction with the evidence from further west on Hunter Street, the work indicates that a large area to the south of Hunter Street retains significant archaeological deposits.
Actions (login required)