Dunn, Paul (2013) Todmorden Wind Farm Geotechnical Site Investigations, Calderdale, West Yorkshire. [Client Report] (Unpublished)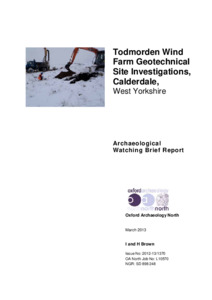 Preview
PDF




L10570_TodmordenWF_FullRep.pdf


Download (7MB) | Preview
Abstract
Calderdale Council approved a series of geotechnical investigations to facilitate a full design for a wind farm on Todmorden Moor, to the west of the town of Todmorden in
Calderdale, West Yorkshire (NGR centred SD 898 248). This followed the submission of an Environmental Impact Assessment (EIA) to accompany a planning application
for five wind turbines, a meteorological mast, sub-station and access tracks. The EIA identified that the majority of heritage assets in the area relate to post-medieval coal
mining, with an isolated Mesolithic find spot suggesting possible prehistoric activity in the area. Consequently, with a potential for encountering unknown archaeological
remains during any ground breaking works, a watching brief was required during the geotechnical investigations. I and H Brown commissioned Oxford Archaeology North
(OA North) to conduct the watching brief which took place over two days on 23rd and 24th January 2013.
Eleven trial trenches were excavated under archaeological supervision at five proposed turbine positions (TT01-10), and one at the proposed site of the meteorological mast (TT11). They measured 10m long by 0.5m wide and varied in
depth from 1.4m deep to 3m deep. The trenches mostly comprised peat in varying depths, from 0.2m to 1.6m, and weathered sandstone. No archaeological features or deposits were identified in any of the trenches. However, the peat appeared to be undisturbed, which suggests that any below-ground archaeological remains have a potential for good preservation. There was also evidence of the known remains
associated with the mine working, such as spoil heaps, of which further evidence could be encountered during the proposed groundworks.
Actions (login required)