Clarke, Steve (2009) Glenfield Farm, Smallwood Hey, Pilling, Lancashire. Archaeological Watching Brief. Project Report. O. (Unpublished)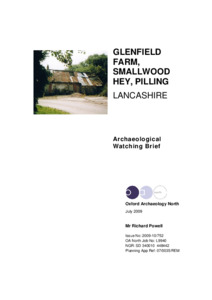 Preview
PDF




L9940 Complete final report.PDF


Download (411kB) | Preview
Abstract
Mr R Powell proposed the redevelopment of the barn and cow sheds at Townside Farm, Pilling, Lancashire (SD40362 48390). In response, Lancashire County Archaeological Service recommended the undertaking of a building investigation of RCHME level II standard, prior to the commencement of work at the site.
The investigation comprised a detailed survey of the building in order to provide an outline of its form, development, and phases of alteration. A limited amount of historical research was carried out into the building, principally comprising a map regression. This allowed an outline history of the development of the building to be established, which would aid phasing and dating of any periods of alteration and construction.
The results of the investigation and cartographic sources revealed that there were five main phases in the development of the existing structures. The date of the original stone structures on the site is unknown, but they must predate 1734. Although these structures are no longer extant, parts of their cobbles walling still appear within the elevations of the present brick structures. This second phase of building using brick occurred in or immediately before 1845. It is likely that the barn was built slightly earlier than the cow sheds, although in general, the type of building material is very similar. Within this second phase, the north and south bays of the barn were divided off, probably to be used as shippons, an external horse-gin for a threshing machine was constructed, and the granary was built. By 1893, a third phase of alterations had been undertaken, in which the small extension to the north-west corner of the barn was added, presumably to enlarge the associated shippon, and the window and doors were also probably inserted during this time. The penultimate phase of alterations occurred shortly afterwards, around the turn of the twentieth century, and included the construction of a lean-to outshut and a new hay-loft. In addition, the stalls in the shippon and cow sheds were also improved with the addition of concrete partition walls, floors and wall finishes. The final phase is a broad period of ad hoc alterations undertaken since the early twentieth century. One of the most notable changes has been the insertion of a large gate into the west of the cowsheds, which presumably compensated for the blocking of a similar sized door on the east side of the building. In addition, the roof structure at the north end of the building has received attention, with some of the repairs evidently have taken place within recent years.
Actions (login required)