Wallis, H. (2019) Westhall Farm, Gayton, Norfolk. [Client Report] (Unpublished)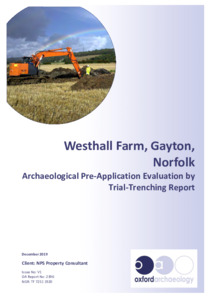 Preview
PDF




OAE Report2396_XNFWFG19_LR2.pdf


Available under License Creative Commons Attribution Share Alike.
Download (7MB) | Preview
Abstract
Pre-planning archaeological evaluation by trial-trenching was undertaken by Oxford Archaeology (OA) East on four fields at Westhall Farm, Gayton between 17th-30th October 2019. Across several of the fields a rectilinear pattern of earthworks is present, which had previously been recorded by an earthwork survey (OA East Report 2326). The trenching revealed several ditches, representing field or plot boundaries and a few pits. Finds were scarce but three different phases of activity have been defined based solely on the alignments of the revealed ditches. The earliest phase possibly dates from the 11th to 12th centuries (based on the earliest finds from the site). A later re-alignment took place which may date to the 12th to 13th centuries as a few sherds of pottery from this date were present in the ditch fills of this alignment. The latest phase of ditches lay on the same alignment as the extant earthworks and therefore post-dates the earlier alignments.
Three large pits were recorded, one of which contained distinctive fills including a charcoal-rich layer with fragments of burnt worked wood and peat ash, possibly indicating some light industrial activity nearby. Environmental samples indicated an environment dominated by cereals. There was good preservation of environmental indicators, including those found in waterlogged contexts in parts of the site.
Overall the finds assemblage indicates a continual presence on the site from the 11th to 12th-centuries onwards, with the surviving earthworks indicating further use into the later medieval period. Fragments of walls and an infilled well presumably related to post-medieval farm buildings that once occupied much of the northern part of the site. Associated with West Hall Farm, these are shown on historic maps but are no longer standing.
Item Type:
Client Report
Uncontrolled Keywords:
Norfolk, norfolk, Gayton, gayton, Evaluation, evaluation, archaeological evaluation, Early Medieval, early medieval, Medieval, medieval, Post-Medieval, post-medieval, Post Medieval, post medieval, Field System, field system, Field Systems, field systems, enclosure, enclosures, enclosure ditch, enclosure ditches, rectilinear, rectilinear enclosure, farming, agriculture, plot, plot boundary, plot boundaries, boundary ditch, boundary ditches, pit, pits, posthole, post hole, well, wall, pot, pottery, Pottery, ceramic, sherd, Early Medieval pottery, early medieval pottery, Medieval pottery, medieval pottery, Post-Medieval pottery, post-medieval pottery, Post Medieval pottery, post medieval pottery, cereal, CPR, cpr, charred plant remains, charcoal, burnt wood, peat ash, earthwork, earthworks, 2396, report 2396, Report 2396, OAE report 2396
Subjects:
Geographical Areas > English Counties > Norfolk
Period > UK Periods > Early Medieval 410 - 1066 AD
Period > UK Periods > Medieval 1066 - 1540 AD
Period > UK Periods > Post Medieval 1540 - 1901 AD
Divisions:
Oxford Archaeology East
Depositing User:

Hamilton

Date Deposited:
07 Jan 2020 11:20
Last Modified:
07 Jan 2020 11:20
URI:
http://eprints.oxfordarchaeology.com/id/eprint/5589
Actions (login required)