Clough, Sharon (2006) Excavations of the Litten Medieval Cemetery, Newbury, West Berkshire. [Client Report] (Unpublished)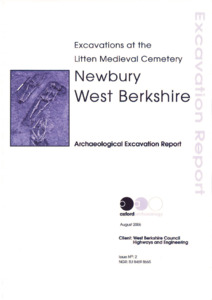 Preview
PDF




NEWR04.pdfA.pdf


Download (12MB) | Preview
Abstract
In July and August 2004, an archaeological excavation was carried out by Oxford Archaeology at the corner of Pound Street and Newton Road, Newbury on behalf of the West Berkshire Highways Department. The excavation in advance of roadworks, revealed 59 inter-cutting graves and a quantity of charnel bones. These burials formed part of a much larger cemetery (locally known as the Litten), which served the medieval infirmary of St Bartho,omew between the early 13th century and mid 16th century.
The skeletons that were recovered were found to be in a generally good condition, though many were incomplete, having been truncated by later graves and modern services. High levels of pathology were observed, not unsurprising in a hospital population. A case of congential syphilis has been proven by radiocarbon dating to pre-date Columbus's discovery of the New World.
Three phases of burial were identified and evidence for burial practice through items such as coffin nails and soil staining was recovered.
Actions (login required)