Jamieson, Vickie (2011) Steetley Quarry, Worksop, Nottinghamshire Watching Brief Report. [Client Report] (Unpublished)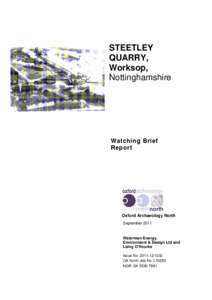 Preview
PDF




L10293_Steetley Archaeological WB report_Sept11.pdf


Download (7MB) | Preview
Abstract
Laing O'Rourke has recently constructed a pre-cast concrete moulding manufacturing complex at Steetley Quarry, Nottinghamshire (SK 5530 7891). Oxford Archaeology North (OA North) was commissioned by Waterman Energy, Environment & Design Ltd on behalf of Laing O'Rourke, to undertake a series of archaeological watching briefs, evaluations and an excavation on the site which has a resulted in the production of a post-excavation assessment in 2008 and a watching brief report in January 2011.
A small watching brief was undertaken in August 2011, focused on the three trenches, in order to evaluate the presence and condition of possible nineteenth century housing in an area being considered for further development.
Five walls relating to the former nineteenth century workers' cottages were recorded in Trench 1, each showing evidence of two phases of construction. These belonged to the former Steetley Row cottages. Trench 2 revealed two walls that had formed the corner of the southern-most building of Ten Row cottages, as shown on the 1898 Ordnance Survey map. An area of stone paving appeared to be an outside yard.
No structures were evident in Trench 3, over the area of the former Four Row cottages, although much demolition debris was present. This trench was small and severely restricted by the presence of woodland and overhead power cables.
This report on August's work has been issued as a supplement to the watching brief
document.
Actions (login required)