Clapperton, Kelly (2007) Moto Service Station, A1(M), Junction 45 Wetherby, North Yorkshire Archaeological Evaluation. [Client Report] (Unpublished)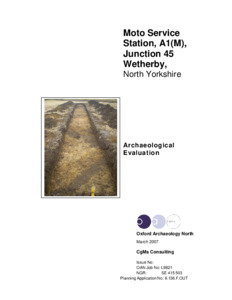 Preview
PDF




Wetherby_MSA_Report_Complete.pdf


Download (6MB) | Preview
Abstract
Oxford Archaeology North (OA North) was commissioned by CgMs Consulting to undertake a programme of evaluation trial trenching on behalf of Moto Hospitality Ltd, as part of the planning condition attached to the establishment of new services on the A1(M) at Junction 45 (NGR SE 415 503, Fig 1, Planning Application no. Ref. 6.136.134.F.OUT). Five trenches were excavated between the 5th to the 7th of March 2007. They were located using differentiated GPS and targeted on anomalies identified during a geophysical survey undertaken in January 2007 (Figs 2-4; ASUD 2007). It was hoped that various linear and magnetic dipolar features identified could be investigated to assess their archaeological potential.
Three boundary ditches (105, 108 and 110) were identified in Trenches 2-4, and evidence of extensive bioturbation, namely root action, was observed in Trench 5. Analysis of the Ordnance Survey First Edition map of the site (1850), combined with the late date of the finds recovered from two of the ditches (105 and 108), suggests that the ditches formed nineteenth century field boundaries; these were not present on earlier maps consulted eg Jefferey 1771. The root action observed in Trench 5 seems to be the result of a small wood recorded on the Ordnance Survey First Edition map
(1850). No evidence of earlier human activity was identified during the investigative trenching, or anything to suggest that the land has been used for purposes other than
farming.
Actions (login required)