Lord, Adele (2019) Towerlands Park, Braintree, Essex. [Client Report] (Unpublished)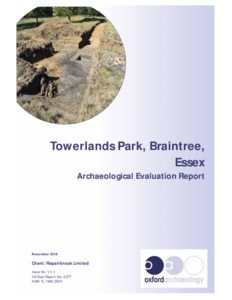 Preview
PDF




OAE_Report 2377_XEXTOW19_LR.pdf


Available under License Creative Commons Attribution Share Alike.
Download (11MB) | Preview
Abstract
Between 27th August and 21st September 2019 Oxford Archaeology East (OA East) conducted an archaeological evaluation at Towerlands Park, Braintree, Essex (centred on TL 7480 2520).
A total of 46 trenches were opened which revealed dispersed features spanning the Late Bronze Age/Early Iron Age, medieval and post-medieval periods. A small concentration of prehistoric activity was identified in the western part of the site, while a group of intercutting pits containing medieval pottery was found close to the southern boundary. A series of ditches representing field boundaries was identified, several of which can be correlated with those shown on the first edition Ordnance Survey map. The presence of medieval pottery in some of the ditches suggests that they may have originated in this period. Previous land use (golf course and equestrian centre) has caused some significant but fairly localised truncation in some areas of the proposed development site.
Small quantities of Roman and post-medieval ceramic building material were recovered in addition to the pottery assemblage, alongside fragments of glass, slate and tobacco pipe. Other finds include small amounts of shell and animal bone, while environmental samples produced a background scatter of charred cereals and occasional waterlogged remains.
Item Type:
Client Report
Uncontrolled Keywords:
Essex, essex, Braintree, braintree, Evaluation, evaluation, archaeological evaluation, Medieval, medieval, Post-Medieval, post-medieval, Post Medieval, post medieval, Iron Age, iron age, Roman, roman, Medieval pottery, medieval pottery, Post-Medieval pottery, post-medieval pottery, Post Medieval pottery, post medieval pottery, Iron Age pottery, iron age pottery, pottery, Pottery, pot, ceramic, sherd, CBM, cbm, ceramic building material, Ceramic Building Material, Brick, brick, Tile, tile, Ditch, ditch, Post Hole, post hole, Posthole, posthole, golf course, equestrian centre, Boundary, boundary, boundary ditch, Boundary Ditch, boundary ditch, field boundary, Field Boundary, field system, agriculture, animal bone, animal bones, animal remains, bone, bones, 2377, report 2377, Report 2377, OAE report 2377
Subjects:
Geographical Areas > English Counties > Essex
Period > UK Periods > Iron Age 800 BC - 43 AD
Period > UK Periods > Medieval 1066 - 1540 AD
Period > UK Periods > Modern 1901 - present
Period > UK Periods > Post Medieval 1540 - 1901 AD
Divisions:
Oxford Archaeology East
Depositing User:

Hamilton

Date Deposited:
10 Jan 2020 10:45
Last Modified:
10 Jan 2020 10:45
URI:
http://eprints.oxfordarchaeology.com/id/eprint/5628
Actions (login required)