Druce, Denise (2007) Second Wood Street, Nantwich, Cheshire, Palaeoenvironmental Investigations. [Client Report] (Unpublished)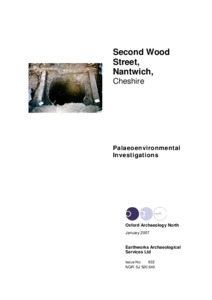 Preview
PDF




Second_Wood_Street_Report_Final.pdf


Download (306kB) | Preview
Abstract
Following proposals for the redevelopment of land at Second Wood Street, Nantwich, Cheshire (NGR SJ 520 640), Earthworks Archaeological Services Ltd, on behalf of Schofield Brothers, commissioned Oxford Archaeology North (OA North) to undertake the assessment and analysis of botanical remains from material taken during the 2003 excavations. The excavation revealed features associated with salt-production and bulk samples were taken from a number of features, including wooden barrels, a wooden salt 'ship', and various 'deposits'. It was anticipated that any plant remains would give an indication of activity on the site and of the immediate surrounding environment. In addition, an environmental specialist from OA North visited the site in order to take monolith samples for palynological studies. Two sediment sequences were sampled, one situated outside and the other within the main area of activity.
Much of the organic and inorganic material, which came from the features associated with the salt-making site at Nantwich, is likely to represent debris and plant matter that accumulated both during and after the occupation of the site. The waterlogged seeds are likely to have come from vegetation growing immediately around the site and consisted, primarily, of taxa indicative of open/rough grassland and cultivated and nutrient-rich land, with some damp/wet ground species present.
Although the range of waterlogged and charred plant remains provide valuable information on the resources available to and utilised by the occupants of the site, they provide little corroborating evidence for any salt-making activities. In addition, the test for sodium chloride (NaCl) from a number of the features, such as the salt 'ship' also proved inconclusive for corroborating such activity. It is possible that the fills and associated plant material accumulated after salt-production activities had ceased. However, what is clear is that as well as salt-production, the site may also have been used for a range of other activities, such as tanning and fibre production.
The pollen evidence from the two sequences indicated that the landscape surrounding the site prior to and during its use was of open grassland with cereal cultivation nearby, with some areas of disturbed/manured and damp/wet ground. Limited alder/hazel woodland grew some distance from the site, and it is possible that a rise in lime pollen at the top of the sequence within the main area of activity reflects material brought onto the site. However, without further investigations this interpretation must remain tentative.
Actions (login required)