Miller, Ian (2015) Block E, Greengate, Salford, Archaeological Desk-Based Assessment. [Client Report] (Unpublished)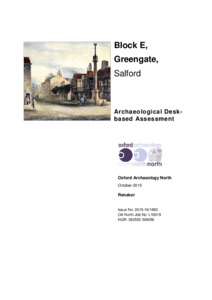 Preview
PDF




Block E, Greengate_Archaeological Assessment.pdf


Download (7MB) | Preview
Abstract
Renaker is devising proposals for the redevelopment of land that is currently used as a car park situated between Greengate and Trinity Way in Salford city centre (centred on NGR 383553 399050). The site lies on the fringe of the historic core of Salford, and is shown on the earliest map of the are to have been developed by the midseventeenth century. By the late eighteenth century, the site contained a range of buildings that probably included shops, workshops, dwellings, and an early industrial works on the western bank of the River Irwell.
The proposed development allows will necessitate considerable earth-moving works that have potential to impact on any below-ground remains of archaeological interest.
In order to facilitate the design and planning application process, Renaker commissioned Oxford Archaeology North to carry out an archaeological desk-based assessment of the study area. This was intended to establish, as far as possible, the nature and significance of the sub-surface archaeological resource within the area, and to establish the impact of any future development upon this resource.
The study area does not contain any designated heritage assets that are afforded legal protection, such as Scheduled Monuments and Listed Buildings, and it does not lie with a conservation area. The study area does, however, contain potential belowground archaeological remains of local or borough significance which, should they survive in-situ, would merit preservation by record if they are directly affected by the redevelopment of the site. In addition, the potential for medieval and/or post-medieval remains cannot be discounted, and any such remains could potentially be of regional importance.
The results obtained from the present assessment have concluded that whilst the potential sub-surface archaeological resource is not considered to represent a significant constraint on the proposed scheme, it would be appropriate to undertake some intrusive archaeological investigation in advance of development. This should be targeted in particular on the sites of early buildings, and should aim to establish the presence or absence of buried remains of these buildings, and any earlier deposits beneath their foundations. Should significant remains be found which will be damaged or destroyed by the proposed development, more detailed excavation may be required in advance of any construction works. Any such programme of work should be developed in consultation with the Greater Manchester Archaeological Advisory Service in their capacity as archaeological advisor to Manchester City Council in order to ensure it is proportionate to the scale of impact on buried archaeological remains.
Actions (login required)