Bullock, Vicki (2008) Levens WwTW to Milnthorpe WwTW Pipeline- Documentary Research and Walkover Survey. [Client Report] (Unpublished)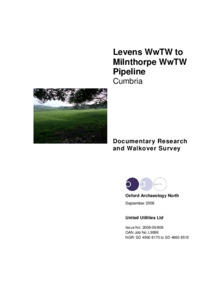 Preview
PDF




Full Final Report 071108.pdf


Download (65MB) | Preview
Abstract
Following proposals by United Utilities for the construction of a new water main from Levens Wastewater Treatment Works (WwTW) to Milnthorpe WwTW, Cumbria (NGR SD 4900 8170 to SD 4860 8515), the Cumbria County Council Historic Environment Service (CCCHES) recommended the completion of documentary research, a walkover survey and a watching brief relating to the application area. Oxford Archaeology North (OA North) was subsequently commissioned by United Utilities to undertake this work. The following comprises the results of the first two elements of the archaeological programme, whilst the watching brief will be subject to a separate report.
In total, 10 sites of archaeological interest were identified within the study area during the documentary research and walkover survey. Five sites were identified during the documentary research. The sites included a possible platform (Site 01), one listed building (Site 02), an historic farmhouse (Site 03), a railway embankment (Site 04) and an historic parish boundary (Site 05).
The walkover identified a further five sites, two of which are post-medieval drainage systems (Sites 06 and 07). The remaining three sites are likely to relate to the medieval fortified house (02) that was identified in the documentary research at Nether Levens. These sites were a 'D'-shaped earthwork (Site 08) of indeterminate function, the remains of ridge and furrow ploughing (Site 09) and a platform that has several earthworks on it (Site 10). The walkover also confirmed the presence of the Furness Railway embankment (Site 04).
Actions (login required)