Verrill, Lucy and Druce, Denise (2008) Burnham Overy Habitat Creation Scheme, Norfolk- Geoarchaeological Investigation. [Client Report] (Unpublished)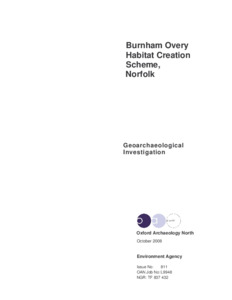 Preview
PDF




Full Report.pdf


Download (13MB) | Preview
Abstract
Oxford Archaeology North (OA North) was commissioned by the Environment Agency to undertake a geoarchaeological investigation on land adjacent to the River Burn near Burnham Overy, Norfolk (centred NGR TF 837 432). The land is proposed for a habitat creation scheme, with five reedbeds, comprising open water areas, excavated, and any clay removed used to construct water-retaining banks.
The site covers an area of approximately 1.2km by between 0.2 and 0.6km, and is situated on the floodplain of the River Burn. Due to the site being within an area of high archaeological potential, an assessment of the impact of the proposed development on any archaeological remains was required, prior to the commencement of any construction works.
The main objective of the geoarchaeological investigation was to characterise the sediment sequences and patterns of deposit accumulation across the site in relation to potential land surfaces/buried soils and localised features, such as topographic highs or palaeochannels. In addition, the investigations sought to identify the location and extent of any waterlogged organic deposits, and to clarify the relationship between sediment sequences and other deposit types.
The survey was carried out over a period of fourteen days between 20th November and 7th December 2007, comprising sampling on transects spaced at roughly 25m intervals along the main axes of the proposed reedbeds. The cores were taken with a hand-held Eiijkelkamp screw auger and a 30mm bore hand-held Eiijkelkamp gouge auger to a depth of 2m or to the point where the underlying solid geology or glacial tills/boulder clay was reached. Sediment descriptions were carried out in the field. In total, 95 cores were taken.
The core survey revealed a complex sequence of Flandrian sedimentary deposits, which overlaid a gently undulating pre-Flandrian surface of fissured chalk bedrock. In broad terms the earliest deposits were peats forming in topographic depressions around an early Holocene palaeochannel, with lateral channel migration resulting in these areas developing into fen/mires and backwater marshes. Alluvial and outwash sands partially overlaid these peats and formed the basal deposits in many areas further away from the channel. These sands were sometimes interbedded with clays, and in an area of higher elevation, palaeosols, indicating that there may have been lateral channel migration or tidal influences at points in the site history. The core survey also revealed the presence of buried stone in two cores.
It is suggested that the proposed development area contains a palaeochannel with adjacent transitional environments, as well as a dryland ridge or river levee, both of which are location types represented in the corpus of existing archaeological evidence, and the impact of the development could potentially be considerable. In particular, the buried palaeosols in Area 6 have the potential to contain in-situ archaeological sites.
It is recommended that a programme of further stratigraphic work and modelling of the sediments, coupled with radiocarbon dating and palaeoenvironmental information, will provide a highly detailed picture of environmental change in this area of Burnham Overy in relation to human occupation. In particular, palaeoenvironmental investigation of the palaeosols is recommended. The resulting model should inform where archaeological sites, within a dry land or wetland context, are likely to be situated.
Actions (login required)