Street, Rachel (2015) Coupland Street, Hulme, Manchester- Archaeological Desk-Based Assessment. [Client Report] (Unpublished)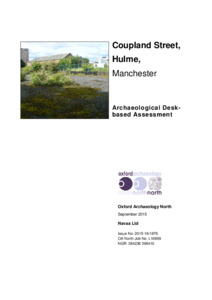 Preview
PDF




Coupland Street, Manchester_Archaeological Assessment (Final).pdf


Download (10MB) | Preview
Abstract
Navaa Ltd is devising proposals for the redevelopment of land on Coupland Street in Hulme (centred on NGR 384236 396410), situated to the south of Manchester city centre. The area retained a rural prospect until the early nineteenth century, when it became a focus for residential development on the fringe of the rapidly expanding industrial town of Manchester.
The proposals allow for the demolition of an existing building that occupies the northwestern part of the site to enable a mixed development of commercial space and residential apartments. The new buildings will incorporate basements, the construction of which have a potential to impact on any buried remains of archaeological interest that survive. In order to facilitate the planning process, Navaa Ltd commissioned Oxford Archaeology North to carry out an archaeological deskbased assessment of the proposed development site. This was intended to establish, as far as possible, the nature and significance of the sub-surface archaeological resource within the study area, and to establish the impact of any future development.
In total, only three heritage assets are known to exist within a radius of 250m of the development site, all of which comprise Grade II listed buildings. In addition, the present study has identified seven sites of archaeological interest within the boundary of the proposed development. These all represent the development of the area as a residential suburb to Manchester from the early nineteenth century onwards. The site has some potential to contain buried remains of early nineteenth-century date that would merit preservation by record, should they survive in-situ. This potential is limited to the northern part of the site, along the Coupland Street frontage, which was occupied by the 1820s by a row of houses that appears to have had a slightly unusual plan form. There is no potential for the site to contain buried remains pertaining to any earlier historical periods. The other buildings that occupied the site in the nineteenth century are of lesser archaeological interest, reflecting their relatively late construction date or the extent of damage to buried remains that was probably wrought by twentieth-century development.
The requirement for any further archaeological recording of buried remains within the Site Area will be decided by the Greater Manchester Archaeological Advisory Service, in their capacity as archaeological advisor to Manchester City Council.
However, in the first instance, it is envisaged that a programme of intrusive archaeological investigation will be required to establish whether any structural remains of the early nineteenth-century houses survive beneath the floor slab of the extant building on Coupland Street. In the event of significant remains being encountered, more detailed archaeological investigation may be necessary.
Actions (login required)