Bonsall, Sandra (2006) Selby Flood Alleviation Scheme, Selby, Yorkshire- Watching Brief. [Client Report] (Unpublished)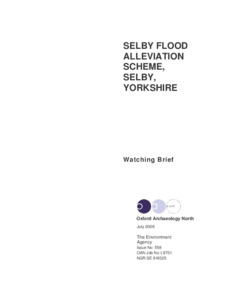 Preview
PDF




Selby_FAS_Complete.pdf


Download (3MB) | Preview
Abstract
As part of a feasibility study for the construction of a flood defence system for the town of Selby, the Environment Agency proposed to conduct a programme of field observation to examine and record any surviving archaeological and palaeoenvironmental features between Selby Dam and Barlby Lane Toll Bridge (area centred on SD 323618), prior to construction. This followed on from a desk-based assessment by Northern Archaeological Associates (NAA) in October 1999 and geotechnical test pits excavated by machine in August 1999, which were archaeologically monitored (NAA). Following submission of a project design, which was approved by the Environment Agency, Oxford Archaeology North (OA North) were commissioned by the Environment Agency (EA) to undertake a watching brief whilst percussion borehole drilling was taking place alongside the River Ouse and at Selby Dam.
The watching brief took place between 23rd May 2006 and 31st May 2006. The programme of field observation examined the sediments from six percussion drilled boreholes. Two boreholes were drilled in the Memorial Gardens, two on the quay at Westmill Foods and two alongside Selby Dam, a tributary of the Ouse. All boreholes were hand-dug to a maximum safe depth of 1.2m prior to the commencement of drilling.
The two boreholes from the Memorial Gardens (BH 1 5m deep, BH 2 5m deep) and the two boreholes on the quay at Westmill Foods (BH 5 3.5m deep, BH 6 5m deep) revealed building rubble overlying alluvial sediments. The two deeper boreholes (BH 10 20m deep, BH 11 10m deep) alongside Selby Dam extended down through mortar and cement, through clayey silts, clay and dry sand. No goearchaeology or peat deposits were recorded in any of the boreholes.
Actions (login required)