Lee, Tony (2005) Ditton Rail Freight Park, Widnes, Cheshire- Archaeological Desk-Based Assessment. [Client Report] (Unpublished)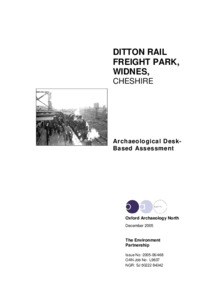 Preview
PDF




Ditton_Rail_Complete.pdf


Download (30MB) | Preview
Abstract
Oxford Archaeology North was commissioned by The Environment Partnership (TEP), on behalf of Halton Borough Council, to undertake an archaeological deskbased assessment of part of the proposed development area for the Ditton Strategic Rail Freight Park, Widnes, Cheshire (NGR SJ 50222 84342) (Planning Reference 05/0948/FUL). The study area comprised the western section of a wider proposed development site to the immediate south of the railway line between Ditton and Widnes, the eastern section having already been covered by a previous archaeological assessment.
The desk-based assessment, undertaken in December 2005, covered a radius of 1km from the centre of the western part of the development site and included visits to the Cheshire Historic Environment Record, Lancashire County Record Office, consultation of the Merseyside Historic Environment Record, and OA North's library. Two sites with Statutory Designation were identified: Lovels's Hall (Site 1) lies to the north of the proposed development site and is a nationally designated site; Hale Bank conservation area (Site 22) borders the site to the south, and is a locally designated area.
The majority of the proposed development site consists of undeveloped agricultural land and is thought to hold considerable archaeological potential. Roman and medieval finds, recovered from the site in the nineteenth century (Site 2), suggest that Roman or prehistoric settlement remains may exist in the vicinity. The finds were made at a considerable depth, probably due to a large build up of estuarine deposits during the last two thousand years; these deposits possess significant palaeoenvironmental potential and any archaeology may be extremely well-preserved. Excavations in advance of the construction of the nearby A5300 (Sites 3 and 4) proved the potential for the existence of hitherto unknown prehistoric remains associated with Ditton Brook.
Within the proposed development area are a number of other sites of archaeological potential, some of which may date to the medieval period, for instance the former trackway associated with Lovel's Hall (Site 6). However, the majority of the sites date to the post-medieval period, particularly those associated with former buildings or potential buildings identified through cartographic sources (Sites 13, 18 and 19). There is also the potential that some of the undated sites, such as field names (Sites 7 and 13) may provide evidence of medieval or earlier activity.
The assessed significance of the sites identified within the proposed development area, and the likely impact of any future development will have upon them, has contributed to the recommendations for further archaeological assessment. These include a site-wide geophysical survey, followed by a programme of archaeological trial trenching, targeted on specific areas of potential identified by this assessment and by the geophysical survey. In addition, those sites with a Statutory Designation (Sites 1 and 22) may need to be considered in terms of indirect impact; it is recommended that English Heritage and the local conservation officer are consulted in these cases.
Actions (login required)