Gajos, Paul (2005) K Village, Kendal, Cumbria- Archaeological Evaluation Report. [Client Report] (Unpublished)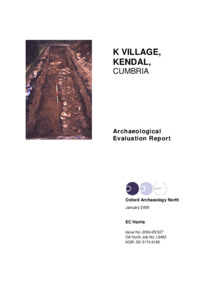 Preview
PDF




KVillage_Complete.pdf


Download (1MB) | Preview
Abstract
In response to a proposed redevelopment of K Village, Lound Road, Kendal, Cumbria (SD 5174 9180), Cumbria County Council Archaeology Service (CCCAS) have advised that an archaeological investigation of the site be undertaken to further inform the planning process as the site lies within the designated Hazard Area for medieval Kendal (SMR 2076). EC Harris, on behalf of The Farningham McCreadie Partnership Ltd, commissioned OA North to undertake the archaeological assessment of the site. The initial phase of work comprised an archaeological desk-based assessment, which was undertaken by Oxford Archaeology North (OA North 2004) in November 2004. The results of this informed the position of evaluation trenches at the K Village site.
The desk-based assessment highlighted two sites within the proposed development area as worthy of further investigation, the site of a tannery dating back to at least 1787 (OA North 2004) and the site of a factory first shown on maps of 1833 (ibid). A programme of archaeological trial trenching was undertaken by OA North in December 2004, to determine the quality, extent and importance of any archaeological remains on the site.
The evaluation consisted of 13 trenches, equating to approximately 5% of the presently available area of the site, consisting mainly of customer and staff car park and areas of soft landscaping. The results of the evaluation have shown that pits relating to the post-medieval tannery survive at the north-western end of the site, along with the remains of walls, which may also relate to buildings associated with the tannery. Walls relating to various stages of the development of the factory site, dating back to at least 1833, were encountered in the central part of the site. The potential for earlier remains to be encountered on the site is suggested by the survival of remnant plough-soils in different areas across the site.
Current plans of the proposed development include a basement car park on two levels with overlying retail and other buildings. Consequently, all but the present offices fronting Lound Road will be demolished. The proposed development will therefore have an impact on the known archaeological remains recorded in the evaluation; comprising complete removal of below ground remains and demolition of the earliest standing buildings on the site seen on cartographic evidence from 1787.
Actions (login required)