Wegiel, Becky and Bullock, Vicki (2009) Padfield to Harrop Edge Reservoir Pipeline, Derbyshire and Greater Manchester- Archaeological Desk-Based Research, Walkover and Topographic Surveys, Strip and Record Investigation and Watching Brief. [Client Report] (Unpublished)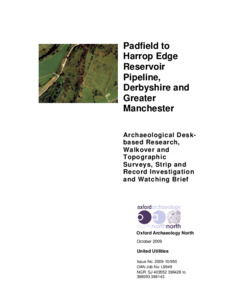 Preview
PDF




PadfieldFullReport271009.pdf


Download (42MB) | Preview
Abstract
Following proposals by United Utilities for the construction of a pipeline from Padfield Reservoir, Derbyshire to Harrop Edge Reservoir, Greater Manchester (NGR SJ 403552 396428 to 398093 396143), the archaeological curator for Greater Manchester and the archaeological curator for Derbyshire recommended the completion of desk-based research relating to the application area. Oxford Archaeology North (OA North) was subsequently commissioned by United Utilities to undertake this work.
In total, 66 sites of archaeological interest were identified as being within the study area (0.25 km either side of the propsed pipeline route) during the desk-based research, of which three are prehistoric (Sites 16, 23, and 31), nine are Roman in date (Sites 01, 11, 12, 20, 24, 25, 26, 27 and 28) and three are medieval (Sites 14, 37 and 46). The remaining sites are all post-medieval in date except for seven, which are not closely dated (Sites 13, 15, 21, 22, 47, 58 and 62).
In total, 17 of the sites are Listed Buildings, four of which have been included in the Gazetteer as a result of their proximity to the pipeline. There are also two Scheduled Ancient Monuments, the Roman fort of Melandra (Site 25) and the medieval ringwork at Mouselow (Site 14) (although this site is just outside the study area occasional finds in the area may be indicative of activity over a more widespread area). Out of the 66 sites, 16 were deemed likely or possible, to be affected by works associated with the proposed pipeline.
Following the results of the desk-based research, a walkover survey was completed on the route of the pipeline which identified a further three sites of potential archaeological importance, one of which was ridge and furrow agricultural remains (Site 59), the other two undated earthworks (Sites 60 and 61). The subsequent topographic survey recorded the location, nature and extent of these three sites.
Following the survey, the area to the north of River Etherow and Melandra Roman fort (Site 25) was subject to a strip and record investigation designed to determine the presence or otherwise of archaeological features. However, it became apparent that the river had changed course considerably over the centuries and, as a result, thick alluvial deposits had built up. This, along with the level of the ground water, meant that strip and record methodology was no longer the best way to assess potential archaeology. As an alternative, evaluation trenches, which would provide a more effective and efficient view of the range of river deposits along this stretch of the easement, were excavated. No archaeological remains were observed in the course of the strip and record or trial trenching.
In addition to the above, an archaeological watching brief was maintained during topsoil stripping activities, as well as the pipe trench excavations, in order to monitor any unexpected archaeological remains. No archaeological remains were observed during the course of the watching brief. No recommendations are made for further work.
Actions (login required)