Druce, Denise (2008) Gunfleet Sands 2 Offshore Windfarm, Essex- Desk-Based Assessment (Stage 1). [Client Report] (Unpublished)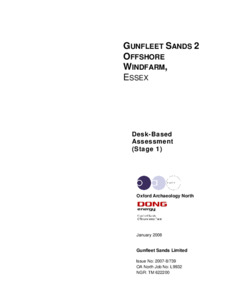 Preview
PDF




Gunfleet_Sands_2_Stage_1_Complete.pdf


Download (1MB) | Preview
Abstract
Following proposals for the construction of an offshore windfarm at Gunfleet Sands, Essex (NGR centred TM 622200), Gunfleet Sands Limited, commissioned Oxford Archaeology North (OA North) to undertake an archaeological assessment of the marine deposits impacted upon by the second phase of development.
The proposed assessment will be undertaken in a phased manner, each stage informing the work required for the next. The work undertaken in this phase forms Stage 1, which was an initial desk-based assessment of three logs provided by the geotechnical contractor, Structural Soils, which were recorded in August and September 2007. The aim was to broadly characterise the sediments and identify their archaeological potential in relation to evidence for former land surfaces and deposits "such as peat". From the results, recommendations will be made for Stage 2, archaeological recording of the existing retained cores.
The sediments recorded in all three cores represent bands of clays, silts, sands, gravels and silty peats (in one borehole) deposited under either fluviatile or estuarine conditions. It is possible that the deposits recorded from Gunfleet Sands represent a seaward extension of the infilled drainage system of the former Thames-Medway Rivers and their tributaries. On these grounds, it is recommended that the programme of work progresses to Stage 2.
Actions (login required)