Healey, Chris (2007) Land At Spital Road, Bromborough, Merseyside- Desk-Based Assessment and Evaluation. [Client Report] (Unpublished)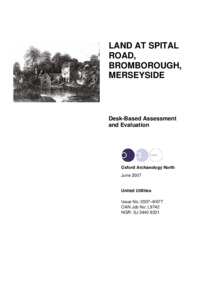 Preview
PDF




Spital_DBAandEval_Complete.pdf


Download (2MB) | Preview
Abstract
United Utilities are preparing for the disposal of land at Spital Road, Bromborough, Merseyside (NGR SJ 344 831), and as part of outline planning permission for residential development a programme of archaeological work was requested by the Merseyside Archaeological Service (MAS), of which the first stage comprised a deskbased assessment. Oxford Archaeology North (OA North) carried out the initial assessment and site visit in August 2006. The second stage of archaeological work comprised a programme of evaluation trenching, which was executed in March 2007. The area of the proposed development had been previously occupied by the Bromborough Mill complex (Site 10), parts of which may have been medieval in origin.
The desk-based assessment examined a large number of primary and secondary sources, concentrating particularly on early maps of the area held in the relevant record offices. The Merseyside Historic Environment Record (HER) was also visited and a list of the known sites of archaeological interest in the area was provided. All of this information was listed in a gazetteer and plotted onto a plan of the proposed development area.
A site visit to the proposed development area was undertaken as part of the deskbased assessment, which covered an area of approximately 300m2. The site visit identified no new archaeological sites, but served to confirm the potential to expose below-ground archaeological remains relating to Sites 10 and 13, the Bromborough watermill and bridge sites respectively.
The evaluation was undertaken in March 2007 and consisted of three trial trenches that were positioned in order to target any remains of archaeological interest associated with the Bromborough watermill and Bridge (Sites 10 and 13). The results of the fieldwork suggested that the demolition of the mill complex in 1949 had been extremely thorough and a lack of substantial quantities of ceramic or stone building materials, within the targeted areas, may indicate that much of the fabric of the buildings had been removed from the site for reuse in construction or as rubble hardcore.
The trenches also targeted areas of potential features relating to water management, such as the mill dam or any associated water channels. Although some waterlogged deposits were observed in Trench 3 that appeared to correspond to the edge of the mill pond, these appear to have formed following a demolition phase at the mill and there was no evidence of a retaining wall relating to the pond. Trench 1 was also positioned in order to encounter remains associated with the east/west road or track that was shown on the estate plan of 1755 and that crossed the River Dibben by Bromborough Bridge (Site 13). No evidence of this routeway was observed
Actions (login required)