Wild, Chris (2007) Intake Farm, Chevin End Road, Guiseley. Archaeological Building Investigation. [Client Report] (Unpublished)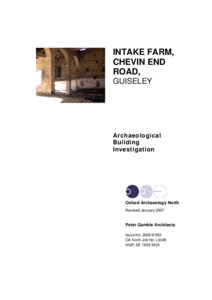 Preview
PDF




L9345 final complete report.pdf


Download (18MB) | Preview
Abstract
In February and March 2004, a desk-based assessment and building investigation was undertaken of Intake Farm, Chevin End Road, Guiseley, West Yorkshire (SE 1838 5435), by Oxford Archaeology North (OA North). Following a planning application by Peter Gamble Design for conversion of the attached barns into two dwellings, a specification for building recording was issued by West Yorkshire Archaeology
Service Advisory Service in January 2004 (WYAS 2004). The property is Grade II Listed.
The building investigation has revealed a complex of unusual multi-phase structures. The farmhouse still retains evidence that demonstrates an evolution of plan types, probably from the late seventeenth century. There also appears to be evidence for an earlier structure on, or nearby, the site.
The attached barn is most unusual, and appears to have replaced an earlier structure, probably contemporary with the first phase of the farmhouse, likely to have been built
in the late seventeenth century. The present structure appears to date from the second phase of the farmhouse, probably in the early eighteenth century. It has a very unusual roof and stone arcade, which appear to be a solution to the difficulties of roofing such a wide structure, combining parts of several different roof types. The attached barns form an integral part of the farm complex, originating as two separate barns, later joined together with the increase of the farmstead size.
Actions (login required)