Chard, Diana and Boothroyd, John Land off Hinckley Road, Sapcote, Leicestershire. [Client Report] (Unpublished)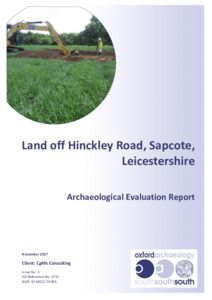 Preview
PDF




X_A50_2017.pdf


Download (5MB) | Preview
Abstract
Between 30th May and 8th June 2017, Oxford Archaeology undertook an
archaeological evaluation comprising 28 trenches on Land off Hinckley Road,
Sapcote, Leicestershire (NGR: SP 48321 93396). The work was undertaken to
inform the local planning authority in advance of a submission for a proposed
housing development.
Geophysical survey of the site had identified the probable presence of
medieval ridge and furrow at the site, but no other significant features were
recorded. The spreading of green waste across the site are likely to have had
a negative effect on the results of the survey.
A total of 28 trenches were excavated and significant archaeological features
were present in 12 of them. The other 16 trenches were either devoid of
archaeological features or only contained furrows or natural features, for
example root bowls.
Three phases of activity were recorded across the site: late Bronze to early
Iron Age, late Iron Age to Roman and medieval to post medieval. A flint tool of
likely Mesolithic date was recovered from a subsoil deposit. Activity
associated with the late Bronze Age to early Iron Age was confined to a single
ditch within the south-east corner of the site.
Ditches dated from the late Iron Age and Roman period are indicative of
agricultural field systems. Their comparable alignments and the pottery
recovered from the fills suggest only a single phase of activity. Features
uncovered during these works are likely to form part of a nearby settlement's
agricultural hinterland.
Medieval and post-medieval features can be associated with agricultural
management. East-west aligned furrows, as suggested by the results of the geophysical survey, were present within several of the trenches.
Actions (login required)