Gorniak, Mariusz Spread Eagle Public House, Wandsworth, London. [Client Report] (Unpublished)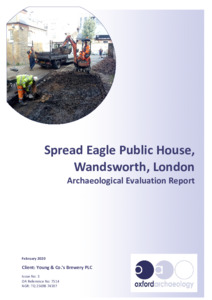 Preview
PDF




WNZ19.pdf


Download (14MB) | Preview
Abstract
In October 2019, Oxford Archaeology conducted an archaeological evaluation
in the car park area to the rear of the Spread Eagle public house in
Wandsworth, London. The work was commissioned by Leagate Project
Services, on behalf of Young & Co.'s Brewery PLC, for proposed building
development.
The Spread Eagle is first mentioned in 1664 and a building is evident within
the site on Rocque's map of 1741-5, the first to show the site in any detail. On
Corris' 1787 map, the site is referred to as 'The Eagle Inn & buildings, gardens
etc'.
Two trenches, measuring c 4m x 7m at the top and c 2m x 5m at the base,
located in the western and eastern part of the site, revealed 1.2 to 1.4m of
deposits, layers, pits, surfaces, and walls dating from the early 18th century to
the current car park phase.
The earliest phase of activity found in the trenches comprised a rubbish pit
and finds from a buried former topsoil horizon dating from the first half of the
18th century. The finds included drinking vessels and clay tobacco pipe
fragments, no doubt associated with the Spread Eagle or a former tearoom
adjacent to the site.
Most of the features in the trenches dated from the 19th century when, as
shown on historic Ordnance Survey maps, outbuildings were standing in the
yard of the Spread Eagle. One of the buildings has been identified as a stable.
The buildings were demolished in the latter half of the 20th century.
In light of the limited significance of the remains, no further archaeological
mitigation is proposed. The trenching results, in conjunction with the deskbased
assessment, sufficiently characterise the post-medieval and modern
archaeology that is present within the plot.
Actions (login required)