Champness, Carl (2008) Fletching Mill, Fletching, Sussex. Project Report. Oxford Archaeological Unit Ltd. (Unpublished)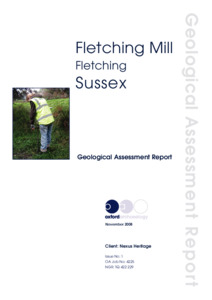 Preview
PDF




FLEMIL08.pdfA.pdf


Download (1MB) | Preview
Abstract
In October 2008, Oxford Archaeology (OA) carried out an auger survey at Fletching Mill, near Fletching, East Sussex. The investigation was commissioned by Nexus Heritage on behalf of Royal Haskoning for the
Environmental Agency in advance of planned re-meandering work at the site. The survey aimed to investigate a potential medieval moated manor sequence and recover samples for palaeo-environmental assessment.
Sixteen auger holes were undertaken within two ditch sequences that surround a well preserved flat rectangular earthwork interpreted as a potential medieval moated manor. The ditches extended to a maximum depth of 1.76m below the platform. Bedrock was encountered at the base
of the ditches at a depth of 1.27m. A sequence of waterlogged fluvial clays overlying bedrock was identified indicative of low-energy waterlain
deposits. The sedimentary and environmental evidence indicated deep flowing conditions existed within the ditches. This evidence suggested that
the ditches must have at some point been connected to the River Ouse.
These deposits were overlain by 0.60m of organic rich clayey silts and sands, which formed within a damp ditch environment. Evidence of structural material intermittently dispersed within the southern ditch sequence between these two deposits, may suggests the proximity of a
medieval/post medieval brick built structure. Overlying the ditch sequence was a thin topsoil and leaf litter.
The ditch sequences are consistent in terms of their form, dimensions and sedimentation with other moated sites within the area. The ditch sequences indicate a high degree of consistency within the ditch fills which imply that they were once connected and formed part of a moated
rectangular enclosure. The ditches must have been connected to the river via the leats that can be seen extending to the north of the site. Other possible features that could produce a similar sedimentary sequence include various fishponds, watering and garden features and these should
also be considered.
The alluvial deposits have remained waterlogged and should be considered of palaeo-environmental interest. The sequence was found to have good potential for the preservation of waterlogged plant remains,
insects, pollen and diatoms. Organic material is also present and would be suitable for radio carbon dating. A programme of dating for the lower sequence has been recommended in order to confirm the dating of these
earthworks.
It is expected that any proposed work in this area may have a potential impact on this site. This sequence will be vulnerable to direct and indirect impactions that may be involved in any remodelling work within or near
to the earthworks.
Actions (login required)