Moan, Patrick (2018) Plot 400, Great Haddon, Peterborough. [Client Report] (Unpublished)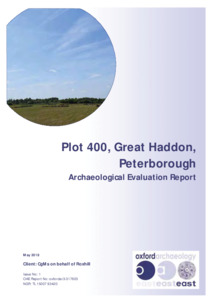 Preview
PDF




PETPOT18_Eval_Report_2209_LR.pdf


Available under License Creative Commons Attribution Share Alike.
Download (7MB) | Preview
Abstract
Between 14th and 18th May 2018, Oxford Archaeology East (OA East) undertook a 29-trench evaluation on land north of Haddon Road, Peterborough (TL 15007 93420) to aid in identifying the preservation and extent of any non-designated heritage assets within the development area for a new industrial warehouse unit, following on from a geophysical survey undertaken by Stratascan (Richardson 2016).
Archaeological features were present within two thirds of the trenches, the most significant of which were within the northern half of the area, where large enclosure ditches that were identified on the geophysical survey as relating to two distinct enclosures were also revealed in the trenches, along with features associated with activity within the enclosures. South of this Iron Age activity, a number of broadly north to south ditches were identified that, despite containing no dateable artefacts, are thought to represent a Romano-British field system, similar in form to bedding trenches regularly found within the eastern region.
The results of the evaluation indicate Middle to Late Iron Age settlement activity within the northern half of the development area, situated on a gravel outcrop, overlooking lower ground to the south and west. Trenching indicated that the geophysical survey results were relatively accurate, with the majority of larger features (such as the enclosure ditches) being found within the trenches where expected.
The finds assemblage from the trenching was relatively small, with 332g of predominantly Middle Iron Age pottery being recovered from features within the northern half of the site, along with 654g of animal bone, mostly cattle. Environmental sampling of features found that preservation of ecofacts was poor, with only one sample being productive, containing single charred grains of wheat and barley, along with seeds of henbane and duckweed.
Item Type:
Client Report
Uncontrolled Keywords:
Evaluation, evaluation, archaeological evaluation, Peterborough, peterborough, Great Haddon, great haddon, Iron Age, iron age, Middle Iorn Age, middle iron age, Pottery, pottery, pot, ceramic, sherd, Iron Age pottery, iron age pottery, Middle Iron Age pottery, middle iron age pottery, ditch, ditches, pit, pits, ecofacts, duck weed, Enclosure, enclosure ditch, enclosure ditches, agriculture, landscape, 2209, report 2209, Report 2209, OAE report 2209
Subjects:
Geographical Areas > English Counties > Cambridgeshire
Period > UK Periods > Iron Age 800 BC - 43 AD
Period > UK Periods > Iron Age 800 BC - 43 AD > Middle Iron Age 400 - 100 BC
Divisions:
Oxford Archaeology East
Depositing User:

Hamilton

Date Deposited:
25 Feb 2020 09:25
Last Modified:
25 Feb 2020 09:25
URI:
http://eprints.oxfordarchaeology.com/id/eprint/5703
Actions (login required)