Daniel, Rachael Rectory Farm, Bottesford, Leicestershire Archaeological Evaluation Report. [Client Report] (Unpublished)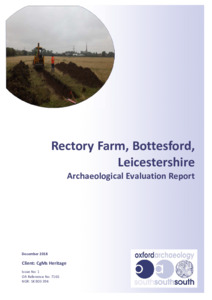 Preview
PDF




X_A98_2018.pdf


Download (26MB) | Preview
Abstract
In September 2018, Oxford Archaeology were commissioned by CgMs Heritage (part of the RPS Group) to undertake an archaeological evaluation of a proposed 13.35ha housing development to the north of Bottesford,
Leicestershire (centred at SK 8030 3940). A programme of 30 trenches (later reduced to 28) was undertaken across the site, to ground-truth a previous phase of geophysical survey and target specific areas of archaeological
potential.
The evaluation confirmed the presence of significant Iron Age and Roman settlement activity. Alluvial deposits appear to have aided the preservation of the archaeology in some areas. Excavation identified two main foci of late Iron
Age and late Roman activity in the western part of the site (Areas 1 and 2), two areas of possible Roman enclosures and field systems in the south-central
part of the site (Areas 2 and 3), and an area of late medieval/post-medieval activity to the east (Area 6). These were supported by the results of the
geophysical survey.
A significant concentration of mid–late Roman pottery and animal bones was recovered from the site. These were consistent with a moderate status settlement, but with some evidence of continental-style dining practices.
Other notable finds included four Roman coins, a bone needle holder, worked bone, a hobnail, Roman tile and a quern stone. The recovery of charred cereal
grains indicated a typical crop regime for the area, with weed seeds consistent with the spread of cultivation onto heavier clay soils. Cattle, sheep/goat and
pig bones were recovered, while the presence of wildfowl specimens, including plover and snipe, highlight the exploitation of local wetlands.
The archaeology was deeply buried in places and well-preserved from having been sealed by up to 1m of alluvium. Evidence of possible rural 'dark-earth'
deposits were also identified across areas of settlement indicating a phase of possible abandonment during the early–middle Saxon period.
Actions (login required)