Dodd, Mark Long Oat Lands, Little Wittenham, Oxfordshire. [Client Report] (Unpublished)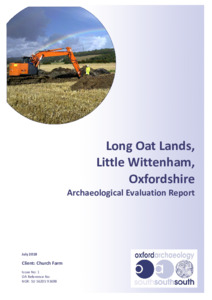 Preview
PDF




LWLO18.pdf


Download (13MB) | Preview
Abstract
Oxford Archaeology carried out an evaluation by trenching of a 15ha field known as Long Oat
Lands, Little Wittenham, Oxfordshire, on behalf of the landowners, Church Farm Partnership.
Twenty-seven trenches 30m long and 2m wide, representing a 1% sample of the field, were
excavated by machine under close archaeological supervision. The work was carried out at
the request of Natural England to assist in determining whether an application for reversion
from pasture to arable cultivation should be granted.
Potentially archaeological features were found in 14 trenches. In the north-west part of the
site two un-urned cremations were found, of which one was excavated and radiocarbondated
to 1130-930 cal BC. The other had a small flint core on its surface. A small pit containing
calcined flint-tempered pottery was found in both Trench 5 and Trench 6, and may represent
associated activity. An undated small pit in Trench 1 may also have been related.
Single small pits containing similar pottery were also found in Trenches 22 and 26 at the south
end of the field, and these may be of late Bronze Age or middle Iron Age date. Three possible
postholes, none dated, were found in Trench 25 adjacent, and may also have been associated.
A north-south aligned ditch containing late medieval ceramic building material was found in
Trench 9, and a possible continuation in Trench 13. Undated ditches in Trenches 14 and 21
may represent further boundaries along the east side of the field, parallel to the stream
running down the eastern field boundary.
Furrows on a NNW-SSE alignment were found in Trenches 4, 5 and 8 at the north end of the
field, and that in Trench 8 contained medieval pottery. An undated ditch on the same
alignment was also found in Trench 8, and a ditch or furrow on the same alignment in Trench
26 at the south end of the field.
Undated ditches were found in Trenches 8 and 10 at right angles to this, as was a broad furrow
or ditch in Trench 13, and may relate to cropmark ditches plotted crossing the field, though
the correlation with that in Trench 10 is not close. These WSW-ENE aligned ditches match the
orientation of slight banks shown on the LiDAR survey of this field, and correspond with
former field boundaries marked on 19th-century maps. Other slight banks visible on the LiDAR
were also confirmed by the evaluation, and presumably mark further former field divisions of
medieval or later date, ploughed out in the 20th century.
In three trenches a third layer was found below the topsoil and ploughsoil, which varied in
character, but appeared to be a mix of the natural clay or sandy gravel and the subsoil. This
may represent either the interface of ploughing and the natural or the remains of an earlier
soil, but has clearly been mixed, so even if an earlier soil, probably simply indicates that there
was an earlier phase of ploughing. In two cases the survival of this soil may have been related
to the slight field banks on the LiDAR, but this was not clear in the third case. No finds were
recovered from this soil.
Actions (login required)