Blackbourn, Kathryn (2018) Roman and Early Saxon Settlement along the Marham Resilience Scheme, Middleton, Norfolk. [Client Report] (Unpublished)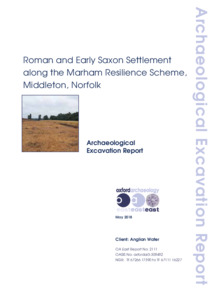 Preview
PDF




final report 2111_LR.pdf


Available under License Creative Commons Attribution Share Alike.
Download (4MB) | Preview
Abstract
Oxford Archaeology East undertook archaeological monitoring and excavation along the Marham Resilience Scheme Pipeline route in Middleton, Norfolk (TF 67266 17390 to TF 67111 16227) between 29th May and 30th June 2017.
The National Mapping Programme (NMP) had previously identified several cropmarks of potential interest along the route of the pipeline. To explore these features the monitoring part of the project focussed on two areas, one towards the southern end of the pipeline (0m-550m) and the other at the northern end (850m-1440m) where, prior to excavation, an undated ditch had been identified (NHER 3395). The excavation area (550m-850m) was also known to pass through a series of undated crop-marks (NHER 27991). The excavation succeeded in recording enclosure ditches, pits, structures and post-holes dating from the Late Neolithic to Early Bronze Age, Roman, Early Saxon and post-medieval.
A single pit, located towards the southern part of the excavation area, yielded a small quantity of Late Neolithic to Early Bronze Age pottery. Residual prehistoric worked flint was also recovered from features across the site.
Roman activity on site was represented by a sub-square enclosure thought to date to the first half of the Roman period, which was subsequently replaced by a much larger rectangular enclosure. In addition, a collapsed wall (with attached plaster) and a small number of pits were identified. An assemblage of 205 sherds (3277g) of Roman pottery was recovered which includes a waster sherd, indicating production may have been taking place nearby.
Early Saxon activity on site can be securely dated between the late 5th to late 6th centuries. Two sunken featured buildings (SFBs) of different design were found, one with two posts – the other with only one. Both buildings produced numerous finds including pottery, worked and butchered animal bone, burnt clay and metal working debris. Accurate plotting of the finds revealed that, in both buildings, the north-west quadrant contained evidence for textile production which included loomweights, bone combs, a pin beater and spindle whorl. The numerous finds contained within the backfill of the largest SFB (168) suggest that once this building fell from active use it was filled with rubbish. A number of contemporary pits were identified across the site, some of which may have been associated with SFB construction and use. It is possible these pits were excavated for sand extraction and latterly used as rubbish pits. Saxon pottery totalling 227 sherds (3202g) was recovered. Some of this ceramic material was retrieved from the uppermost fills of the Roman enclosure ditches which suggests this feature may have remained visible in the landscape and was re-used in the Early Saxon period. The potential, therefore, for continuity at this site between the Roman to the Early Saxon periods is high.
A single ditch tentatively dated to the post-medieval period was recorded in the northern part of the site during monitoring.
Item Type:
Client Report
Uncontrolled Keywords:
Norfolk, norfolk, Marham, marham, Middleton, middleton, Excavation, excavation, archaeological excavation, WB, wb, Watching Brief, watching brief, Monitoring, monitoring, Pipeline, pipeline, Neolithic, neolithic, Late Neolithic, late neolithic, Bronze Age, bronze age, Roman, roman, Early Medieval, early medieval, Saxon, saxon, Anglo-Saxon, anglo-saxon, pottery, Pottery, pot, ceramic, sherd, vessel, Neolithic pottery, neolithic pottery, Late Neolithic pottery, late neolithic pottery, Bronze Age pottery, bronze age pottery, Roman pottery, roman pottery, Early Medieval pottery, early medieval pottery, Saxon pottery, saxon pottery, Anglo-Saxon pottery, anglo-saxon pottery, enclosure, sub-square, sub-sqaure enclosure, rectangular enclosure, agriculture, farming, structure, building, settlement, wall, plaster, pit, pits, ditch, ditches, lithic, lithics, lithic implement, lithic implements, flint, flints, worked flint, residual, residual flint, sunken featured building, Sunken Featured Building, sunken-featured building, Sunken-Featured Building, SFB, sfb, Loomweight, loomweight, animal bones, animal bone, animal remains, bone, bones, butchery mark, butchery marks, burnt clay, fired clay, bone comb, pin beater, spindle whorl, spindlewhorl, textile production, midden, rubbish, rubbish pit, 2111, report 2111, Report 2111, OAE report 2111
Subjects:
Geographical Areas > English Counties > Norfolk
Period > UK Periods > Bronze Age 2500 - 700 BC
Period > UK Periods > Bronze Age 2500 - 700 BC > Early Bronze Age 2500 - 1500 BC
Period > UK Periods > Early Medieval 410 - 1066 AD
Period > UK Periods > Neolithic 4000 - 2200 BC > Late Neolithic 2700 - 2200 BC
Period > UK Periods > Neolithic 4000 - 2200 BC
Period > UK Periods > Post Medieval 1540 - 1901 AD
Period > UK Periods > Roman 43 - 410 AD
Divisions:
Oxford Archaeology East
Depositing User:

Hamilton

Date Deposited:
31 Mar 2020 13:31
Last Modified:
31 Mar 2020 13:31
URI:
http://eprints.oxfordarchaeology.com/id/eprint/5739
Actions (login required)