Fairbairn, James (2018) Archaeological Evaluation and Photographic Building Survey at Norwich School. [Client Report] (Unpublished)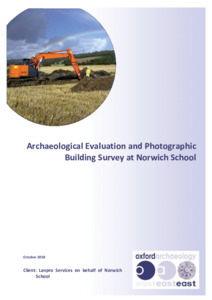 Preview
PDF




OAE_Report_2264_LR.pdf


Available under License Creative Commons Attribution Share Alike.
Download (10MB) | Preview
Abstract
Oxford Archaeology East were commissioned to undertake archaeological evaluation trenching and a photographic survey at Norwich School. Two trenches were located in the grounds of the school and the former Bishops Palace. The photographic survey concentrated on a section of the Cathedral precinct wall where re-opening of a blocked gateway is proposed.
Trench one revealed a layer of loose flint rubble sealing a homogenous buried soil. A driveway and associated sub strata was found within Trench two sealing a post medieval pit which truncated a medieval buried soil.
The Cathedral precinct wall, whilst certainly medieval in origin, displays numerous phases of repair and rebuilding mostly relating to the 18th and 19th centuries.
Item Type:
Client Report
Uncontrolled Keywords:
Norfolk, norfolk, Norwich, norwich, Norwich Cathedral School, norwich cathedral school, evaluation, Evaluation, archaeological evaluation, Building Recording building recording standing buildings recording, building survey, Cathedral, cathedral, precinct, Precinct, Cathedral Precinct, cathedral precinct, Medieval, medieval, Post-Medieval, Post Medieval, post-medieval, post medieval, 18th century, Medieval pottery, medieval pottery, Post-Medieval pottery, Post Medieval pottery, post-medieval pottery, post medieval pottery, pottery, Pottery, pot, ceramic, sherd, vessel, CBM, cbm, Ceramic Building Material, ceramic building material, Tile, tile, human remains, Human Remains, bone, bones, human bone, human bones, distartic, disarticulated, disarticulated human remains, buried soil, pit, driveway, 2264, report 2264, Report 2264, OAE report 2264
Subjects:
Geographical Areas > English Counties > Norfolk
Period > UK Periods > Medieval 1066 - 1540 AD
Period > UK Periods > Post Medieval 1540 - 1901 AD
Divisions:
Oxford Archaeology East
Depositing User:

Hamilton

Date Deposited:
09 Apr 2020 12:35
Last Modified:
09 Apr 2020 12:35
URI:
http://eprints.oxfordarchaeology.com/id/eprint/5745
Actions (login required)