Evans, Gary Richmond Education and Enterprise Campus Development, Egerton Road, Twickenham. [Client Report] (Unpublished)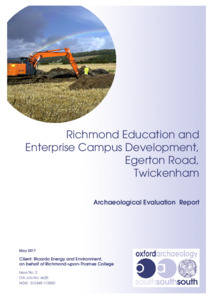 Preview
PDF




EGR17.pdf


Download (6MB) | Preview
Abstract
This report presents the results of archaeological trenching evaluation carried out by
Oxford Archaeology during development works at the proposed Richmond
Education and Enterprise Campus Development, Egerton Road, Twickenham, in the
London Borough of Richmond Upon Thames TW2.
The work involved the machine excavation of seven trenches excavated within the
college's northern playing field. These trenches measured 30m x 1.6m and were
excavated to a depth of up to 0.9m below present ground level. The evaluation took
place from the 3rd-6thApril 2017.
The earliest deposits observed were coarse yellow and orange clayey sands and
gravels, which were seen at the base of sondages in Trenches 2, 3, 4 and 6. These
natural geological deposits, which were part of the Kempton Park Gravels formation,
were covered by a 0.4m thick deposit of brownish yellow fine sandy clay, probably of
late Pleistocene or early Holocene alluvial origin.
In Trench 3, this deposit was cut by two ditches, one of which contained a large
fragment of a late 17th-early 18th century wine bottle. In Trench 5 an undated
shallow ditch or gully was also observed cutting into the sandy clay. A series of
criss-crossing shallow cuts were recorded in Trenches 1, 2, 3, 6 and 7. The fills of
these were all similar, and all contained fragments of red and yellow brick, roof
slate, coal and an assortment of pottery and glass ranging in date from the 17th
-19th centuries. These features probably belong to a drainage system for the
orchards which historical mapping show covered the site in the 19th and first half of
the 20th century.
The criss-crossing shallow cuts were overlain by a made ground deposit, which
appeared to represent levelling up for the playing field. This was covered with the
topsoil and turf of the playing field.
Actions (login required)