Thacker, Gerry Rosehurst Farm, Long Wittenham, Oxfordshire. [Client Report] (Unpublished)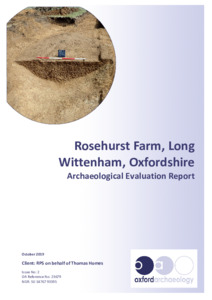 Preview
PDF




LWRF19.pdf


Download (30MB) | Preview
Abstract
Between the 12th and 21st of August 2019 Oxford Archaeology undertook a trial trench evaluation comprising 17 trenches on land at Rosehurst Farm, Long Wittenham, Oxfordshire (centred of NGR SU 54767 93595). The trenches
were targeted on the results of a geophysical survey.
The evaluation revealed two parallel ditches interpreted as a trackway, and a parallel sequence of ditches all of Roman date. Other similarly aligned ditches were undated, but also potentially of similar date.
A rectilinear feature identified by the geophysics was formed of parallel linear features, potentially beamslots, one of which had been cut by a posthole
containing pottery of 5-7th century date, and is likely to represent an Anglo-Saxon hall. A similar geophysical anomaly was also tested by trenching but remained undated, whilst a third comprised a shallow linear feature and a
modern posthole and is less convincing. A large feature also contained pottery of 5-7th century date, and is interpreted as a pit. A potential hall identified
from cropmarks was not present on the geophysical survey. A trench (11) targeted on the cropmark's position revealed a single undated linear feature, interpreted as a ditch.
A potential pit alignment remained undated, and may comprise a series of postholes forming a fenceline.
Other geophysical anomalies proved to be quarrying events of late postmedieval
date.
Actions (login required)