Evans, Helen and Brown, Fraser Melton Quarry Extension, Melton, Noarth Ferriby, East Riding of Yorkshire - Post-Excavation Analysis Final Report. Project Report. OA North. (Unpublished)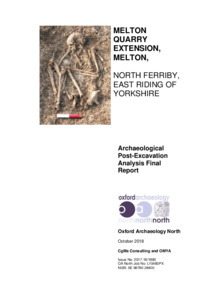 Preview
PDF




L10480PXanalysis_all.pdf


Download (33MB) | Preview
Abstract
A conditional planning permission has been granted by the East Riding of Yorkshire Council for the
winning and working of minerals and deposits of minerals waste on 27.8ha of land on the edge of the
Wolds at Melton Quarry, Melton, North Ferriby, East Riding of Yorkshire (centred on NGR SE 96760
28400). The first phase of work was undertaken in 2003 by York Archaeological Trust (YAT). At the
request of CgMs Consulting, Oxford Archaeology North (OA North) produced a project design for
two phases of subsequent work, which was undertaken during 2012 and 2015. This report presents
the post-excavation analysis of the results of all three phases of work.
The Q1 area, of 3.3ha, was investigated between 20th October and 16th December 2003. Phase 1 of
the Q2 fieldwork took place between 16th April and 16th May 2012, and Phase 2 took place between
13th and 24th April 2015.
Bayesian analysis of the 16 radiocarbon dates derived from prehistoric contexts has illustrated three
clear phases of occupation. The first of these was during the middle Neolithic period, when several
groups of shallow pits and postholes were dug, and filled with cultural material. This included cereal
grains of barley and emmer wheat, one of which has provided a radiocarbon date consistent with the
earliest evidence for cereal agriculture in East Yorkshire.
The second phase was in the Beaker (or Chalcolithic period, c 2500-2000 cal BC), when two crouched
inhumations were interred in two barrows on the scarp-edge, overlooking the landscape below. Two
sets of postholes indicate activity contemporary with the burials. The western barrow contained a
crouched inhumation with a sherd of beaker, and had been dug into a middle Neolithic quarry-pit,
which had been excavated for its natural clay. The barrow on the eastern side of the site contained a
crouched inhumation with a copper-alloy pin, and a secondary early Bronze Age burial interred with
the partial remains of an infant. The infant bones were several hundred years older than the early
Bronze Age burial.
Actions (login required)