Greef, Andrew (2020) Plot 210, Great Haddon, Peterborough: PXA and UPD. [Client Report] (Unpublished)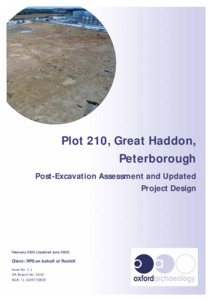 Preview
PDF




OAE_Report2410_PETPOT19_LR.pdf


Available under License Creative Commons Attribution Share Alike.
Download (7MB) | Preview
Abstract
Between the 15th July and the 30th August 2019 Oxford Archaeology East undertook an archaeological excavation (2.2ha) on the proposed site of a commercial unit at Great Haddon, Peterborough. The project was part of the Gateway Peterborough development and was commissioned by RPS on behalf of Roxhill Developments Ltd. The site lay immediately to the north of, and was a continuation of, Plot 400 excavated in 2018 (PETPOT18).
The excavation results correspond partially with the results of a geophysical survey carried out previously on the site, in that the trackway ditches were shown to continue beyond the northern limit of the Plot 400 excavation. However, the excavation exposed significantly more archaeology than anticipated despite a phase of evaluation (Pennell 2019) taking place prior to the full excavation. This may be in part due to the very leached nature of the fills of the features, making them invisible on the geophysics. A large multi-phase enclosure was revealed to the west of the trackway, containing the remains of roundhouses and associated pits and post holes. A further area to the north along the trackway exposed a large watering hole and an area of pitting, possibly relating to another area of settlement located beyond the limit of excavation.
As with the adjacent excavation, the majority of the remains were of Middle to Late Iron Age date, although a higher degree of continuity into the Early Roman period was evident compared to Plot 400. The assemblages of artefacts and ecofacts recovered from Plot 210 were smaller in size than the material recovered from Plot 400, although notable assemblages of pottery and animal bone from features attributed to the Late Iron Age phase should provide useful comparisons to the broadly contemporary activity at the Plot 400 settlement.
Iron Age settlement activity within the wider area is well attested to and the results from this site, together with Plot 400 to the south, have the potential to shed further light on the organisation and exploitation of this landscape during the period leading up to the Roman conquest. The trackway between the enclosures is significant as it could be a prehistoric precursor to Roman Ermine Street, which is believed to lie directly to the west of the site along the line of the modern A1(M) motorway. A comparison of this settlement with known local settlements along Ermine Street will form a main focus for the analysis phase of work.
Item Type:
Client Report
Uncontrolled Keywords:
Peterborough, peterborough, Excavation, excavation, archaeological excavation, PXA, pxa, UPD, upd, PXA and UPD, pxa and upd, Post-Excavation Assessment, Post-excavation Assessment, post-excavation assessment, Updated Project Design, updated project design, Iron Age, iron age, Late iron Age, late iron age, LIA, lia, Roman, roman, Pottery, pottery, pot, ceramic, sherd, vessel, Iron Age pottery, iron age pottery, Late iron Age pottery, late iron age pottery, Roman pottery, roman pottery, Fired Clay, fired clay, Animal Bone, animal bone, animal remains, bone, bones, HSR, hsr, Human Remains, human remains, burial, crouched burial, skele, skeleton, late iron age crouched burial, iron age crouched burial, iron age burial, late iron age burial, trackway, track way, prehistoric, Prehistoric, Ermine Street, ermine street, settlement, ring ditch, ditch, ditches, pit, pits, post hole, posthole, ecofact, ecofacts, landscape, landscape use, enclosure, multi-phase, multi-phase enclosure, multi phase enclosure, enclosure ditch, boundary ditch, roundhouse, round house, structure, posthole structure, post hole structure, watering hole, 2410, report 2410, Report 2410, OAE report 2410
Subjects:
Geographical Areas > English Counties > Cambridgeshire
Period > UK Periods > Iron Age 800 BC - 43 AD
Period > UK Periods > Iron Age 800 BC - 43 AD > Late Iron Age 100 BC - 43 AD
Period > UK Periods > Roman 43 - 410 AD
Divisions:
Oxford Archaeology East
Depositing User:

Hamilton

Date Deposited:
22 Jun 2020 09:04
Last Modified:
22 Jun 2020 09:04
URI:
http://eprints.oxfordarchaeology.com/id/eprint/5783
Actions (login required)