Donnelly, Mike and Champness, Carl and Fenn, Matt and Stafford, Elizabeth (2010) Geopost Navigation Park, Ponders End, Enfield. Project Report. Oxford Archaeological Unit Ltd. (Unpublished)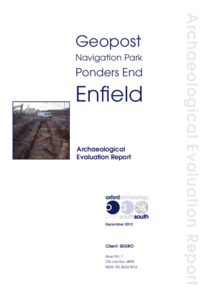 Preview
PDF




NVP10.pdfA.pdf


Download (4MB) | Preview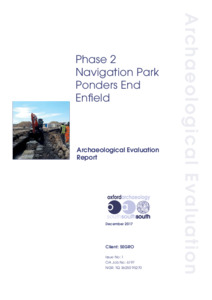 Preview
PDF




NVK15_Phase2.pdf


Download (6MB) | Preview
Abstract
In October and November 2010, Oxford Archaeology South undertook an evaluation at Navigation Park, Ponders End, Enfield on behalf of SEGRO Industrial Properties
Ltd. Seven trenches were excavated and archaeological features were identified in Trenches 3, 5 and 7. In Trenches 3 and 5, these consisted of ditches, a pit and
several treeholes, cut into alluvial material and sealed by later alluvial deposits. Trench 7 contained a dog burial of post-medieval date. All of these features
appeared to be cut into a comparative and contemporary horizon although the features within Trenches 3 and 5 were not dated by the presence of artefact assemblages. These features were sterile and are likely to represent field drainage ditches reflected by the presence of a contemporary stabilisation land surface.
Trenches 3 and 5 represent a localised area of preservation within a largely disturbed and truncated site. The remaining trenches each displayed significant
truncation and levelling caused by the various phases of factory construction undertaken here since the 19th century.
Geoarchaeological test pits were excavated within the trenches across the eastern
part of the site revealing a well preserved alluvial sequence within Trench 7 to 3 m below the current ground level. Investigation of the gravel sequence failed to
encounter the 'Arctic Bed' deposits and an organic deposit within the upper part of the gravel sequence in Trench 5 proved to be of Bronze Age date.
The result of the fieldwork indicates that there is a low potential for significant archaeological remains to be present and those that were identified present are very
localised and not associated with artefact assemblages.
Phase 2
Oxford Archaeology undertook an archaeological evaluation of the Phase 2
development area at Navigation Park, Ponders End, Enfield for SEGRO Properties
Limited in May 2015. This comprised the excavation of 19 trenches over an area
that encompassed 3.48ha.
Archaeological features were located in the central part of the site, where the
underlying Pleistocene gravel rises in elevation, away from the deeper parts of the
floodplain. The features comprised postholes, pits and a substantial N-S aligned
ditch that ran through three of the trenches. Pottery of the Deverel-Rimbury tradition
indicates a middle Bronze Age date and the quantity and character of the features
and finds suggest the site may represent a domestic settlement, possibly associated
with a ditched boundary or enclosure.
Contamination by hydrocarbons and unstable trench edges in the eastern part of the
site precluded detailed recording and sampling of the deeper alluvial and peat
sequences in this area.
Sondages excavated into the Pleistocene gravels in order to investigate the organic
'Arctic Bed' deposits, which are known to be preserved within the Lea Valley, failed
to identify any evidence for them; this may indicate either that the deposits are
absent from this area or that they are buried at too great a depth to be exposed in
the sondages.
©
Actions (login required)