Wegiel, Becky and Brown, Fraser Land off Andrews Lane, Formby, Merseyside. Archaeological Strip, Map and Record Report. [Client Report] (Unpublished)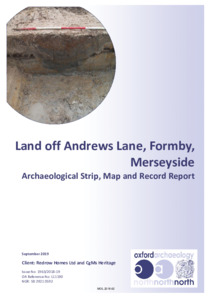 Preview
PDF




Final_Report_FB240919.pdf


Download (14MB) | Preview
Abstract
Oxford Archaeology North (OA North) was commissioned by CgMs Heritage to undertake a program of archaeological strip, map and record at the proposed development site on land off Andrews Lane, Formby. The proposed development will comprise the construction of up to 95 dwellings and associated infrastructure. The archaeological works were required by Doug Moir of the Merseyside Environmental Advisory Service (MEAS), in order to discharge a planning application condition. Specifically, the work was required to assess the presence of remains associated with Brickkiln Hole (MME 1099) mentioned in the Formby Manor Court Rolls of 1757.
The site lies on the southern edge of the town of Formby, in an area that has been subject to rising sea levels and encroaching sand in the past. Map regression showed that the proposed development area was historically on agricultural land, but finds such as the Formby Point footprints, approximately 2km from the proposed development site, prove that the landscape has had a long history of human occupation. A nearby dwelling named Clayhole Cottage, strengthens the argument that the remains of Brickkiln Hole were in the vicinity, and that clay was sourced from this area.
The strip, map and record was undertaken on the footprint of an attenuation pond, which measured approximately 63 x 25m. The fieldwork took place from 8th to 19th October 2018.
The excavation of the area revealed a series of field boundary ditches, dividing an area of windblown sand to the north, from a more clay-rich natural geology to the south. Earliest in the stratigraphic sequence, 0.35m below the present-day ground level, was subsoil (143). Above this was a peaty buried soil (144) sealed below a windblown sand (145). All these deposits were truncated by the earliest boundary ditch (178), which was not closely dated, but could date to the post-medieval period. The buried soil was radiocarbon dated to the late Bronze Age and contained pollen evidence for a damp alder carr woodlands, succeeded by a saltmarsh, which formed as sea levels and the water table rose. Ditch 178 was replaced by a more substantial boundary formed by parallel ditches 176 and 177, either side of a central bank. The latest phase of boundary redefinition comprised a recut (184) to south-western boundary ditch (176). Historic mapping showed that the boundary was still extant in the nineteenth century and a shoe recovered from the latest backfill to 184 was dumped at this time. No evidence for quarrying or brick manufacture was found that could have been associated with Brickkiln Hole.
Actions (login required)