Robinson Zeki, Leanne (2020) Land South of Nos 1 to 7 Old School Lane, Upware: PXA and UPD. [Client Report] (Unpublished)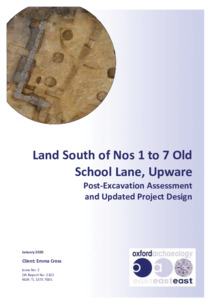 Preview
PDF




OAE_Report_2322_WICOSL18_PXA_LR.pdf


Available under License Creative Commons Attribution Share Alike.
Download (7MB) | Preview
Abstract
Between the 11th December 2017 and 11th July 2018 Oxford Archaeology East (OA East) carried out excavations in two phases at land south of Nos 1 to 7 Old School Lane, Upware, Cambridgeshire. In total, 0.57ha was investigated in two contiguous areas of excavation.
Few prehistoric features were recorded and few early finds were recovered, although the evidence was sufficient to suggest a background presence during the Neolithic, Bronze Age and Iron Age. Remnants of two ring gullies indicate the presence of roundhouses, which although poorly dated, were probably Iron Age.
In contrast, significant, intense and long-lived Roman activity, which peaked in the Late Roman period (AD 200-400+), occurred in the form of a ladder settlement, with related features including enclosures, boundary ditches, pits, postholes and substantial structural remains. In the north of the site excavation revealed part of a large rectangular aisled building with stone foundations, a wide entranceway and two parallel lines of post-settings. Human remains, comprising a double adult inhumation, multiple neonate burials and a cremation, were also associated with the Roman settlement.
The stone-footed structure is a rare and important building, given its location in the Cambridgeshire fens. The investment of labour required in its construction suggests that the associated settlement may have been of some local significance. Overall, the results of the project demonstrate intensive Roman occupation of the peninsula of dry land at Upware and provide an additional settlement to supplement the known Roman settlements along the River Cam.
Following abandonment of the building in the very Late Roman period, several ditches of post-Roman date demonstrate limited later use of the site.
Item Type:
Client Report
Uncontrolled Keywords:
Cambridgeshire, cambridgeshire, Wicken, wicken, Upware, upware, Excavation, excavation, archaeological excavation, PXA, pxa, UPD, upd, Post-Excavation Assessment, Post-excavation Assessment, post-excavation assessment, Updated Project Design, updated project design, Roman, roman, Iron Age, iron age, Pottery, pottery, pot, ceramic, sherd, vessel, Bronze Age pottery, bronze age pottery, Roman pottery, roman pottery, Iron Age pottery, iron age pottery, Early Iron Age pottery, early iron age pottery, Middle Iron Age pottery, middle iron age pottery, Late Iron Age pottery, late iron age pottery, gully, ring gully, ring gullies, round house, roundhouse, iron age round house, iron age roundhouse, Iron Age round house, Iron Age roundhouse, Ladder Settlement, Ladder settlement, ladder settlement, settlement, Roman Ladder Settlement, roman ladder settlement, building, structure, aisled building, rectangular aisled building, enclosure, enclosures, enclosure ditch, ditches, ditch, pit, pits, post holes, postholes, posthole, post hole, human remains, HSR, hsr, bone, bones, inhumation. inhumations, double inhumation, burial, grave, neonate, neonate remains, neonate burial, neonate burials, cremation, barn, oven, kiln furniture, brooch, coin, roman coin, spearhead, early medieval spearhead, millstone, spindlewhorl, spindle whorl, wall plaster, plaster, 2322, report 2322, Report 2322, OAE report 2322
Subjects:
Geographical Areas > English Counties > Cambridgeshire
Period > UK Periods > Bronze Age 2500 - 700 BC
Period > UK Periods > Iron Age 800 BC - 43 AD > Early Iron Age 800 - 400 BC
Period > UK Periods > Iron Age 800 BC - 43 AD
Period > UK Periods > Iron Age 800 BC - 43 AD > Late Iron Age 100 BC - 43 AD
Period > UK Periods > Iron Age 800 BC - 43 AD > Middle Iron Age 400 - 100 BC
Period > UK Periods > Roman 43 - 410 AD
Divisions:
Oxford Archaeology East
Depositing User:

Hamilton

Date Deposited:
05 Aug 2020 09:37
Last Modified:
05 Aug 2020 09:37
URI:
http://eprints.oxfordarchaeology.com/id/eprint/5802
Actions (login required)