Howsam, Charlotte Middlemore Site 8e, Daventry, Northamptonshire. [Client Report] (Unpublished)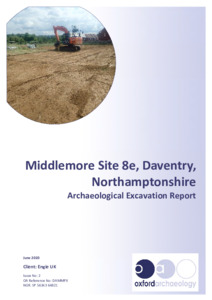 Preview
PDF




DAMM19_Report.pdf


Download (4MB) | Preview
Abstract
Oxford Archaeology carried out an archaeological excavation in 2019 within
the Site 8e area of the Middlemore development site, Daventry,
Northamptonshire (NGR SP 56343 64821). Preceding geophysical survey and
trial trench evaluation of the c 1.25ha site had established the presence of
predominately Iron Age remains, comprising ditches and pits suggestive of
agricultural occupation, as well as an undated trackway/road consisting of a
metalled surface demarcated by parallel ditches. Two excavation areas,
totalling c 5500sq m, were subsequently targeted upon the Iron Age and
trackway/road remains.
The recovery of a small quantity of residual worked flint of broadly prehistoric
date from across the excavation areas provides evidence of a limited and
perhaps transitory presence in the landscape during the prehistoric period.
The remains of late Iron Age/early Roman (c 50 BC–AD 120) activity were
concentrated in the south of the site and comprised several ditches that
divided the landscape into rectilinear enclosures/fields, most likely for
agricultural purposes; no structural evidence suggestive of settlement was
present on site. Evidence of activity was limited within the bounded areas,
comprising a small number of pits and postholes lacking spatial patterning,
and suggestive of isolated agricultural activity. A cluster of inter‐cutting pits in
the south‐west contained small quantities of pottery, animal bone, fired clay
and charred plant remains, and are suggestive of nearby settlement activity.
Roman remains were confined to the north of the site and comprised a NE–
SW aligned trackway/road formed of a metalled surface and two flanking
ditches that probably had a drainage function. A very small quantity of Roman
pottery, as well as residual late Iron Age/early Roman pottery, suggests that it
may have been in use during the early–middle Roman period. It is possible
that the trackway/road, or its precursor, influenced the layout of the late Iron
Age/early Roman enclosure/field system to its south‐east, though it appears
to have continued in use after the cessation of the enclosures and perhaps
formed part of a local network that connected to the nearby major Roman
road of Watling Street.
Remains of activity post‐dating the Roman period were scarce and comprised
the remnants of ridge and furrow, as well as land drains, indicative of
medieval/post‐medieval and modern agricultural activities.
Actions (login required)