Sparks, Lee Land at Streetfield Farm, Warwickshire. [Client Report] (Unpublished)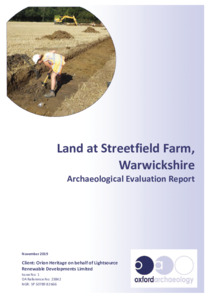 Preview
PDF




CHSF19_pdfA.pdf


Download (8MB) | Preview
Abstract
In September 2019, Oxford Archaeology was commissioned by Orion Heritage,
on behalf of Lightsource Renewable Developments Ltd, to undertake an
archaeological evaluation on the site of a proposed solar installation (centred
on SP 50789 82666). A total of 147 trenches were excavated across the site,
targeted on 2 areas identified from the geophysical survey and otherwise
arranged on a standard grid array, representing a 4% sample of the proposed
development area.
The evaluation confirmed the presence of archaeological remains in the areas
identified on the geophysical survey and showed that there are three main
areas of archaeological activity across the proposed development area.
Remains of Late Iron Age‐Roman activity were found in two fields in the form
of ditches and pits representing field or enclosure boundaries.
Elsewhere on the development a ditch related to a historic field boundary and
remnants of ridge and furrow were seen across the site. The archaeology is
consistent with the results produced by the geophysical survey and historical
mapping and indicates the preservation of a late Iron Age and Roman
settlement landscape dating to the 1st and 2nd centuries AD.
A gas pipeline traversing the site and agricultural ploughing are likely to have
truncated some archaeology.
Actions (login required)