Donnelly, Mike Armstrong Road, Littlemore, Oxford Archaeological Evaluation Report. [Client Report] (Unpublished)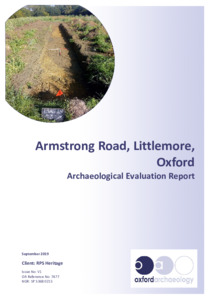 Preview
PDF




LIAR19_Eval.pdf


Download (7MB) | Preview
Abstract
In July 2019 Oxford Archaeology undertook a 15-trench evaluation at
Armstrong Road, Littlemore, Oxford, on behalf of RPS Heritage in advance of
a new housing development. The site had already been subject to two
previous phases of archaeological evaluations, in which only two fragments of
late Iron Age/Romano-British pottery were recovered along with a single
undiagnostic flint flake. This phase of further trenching aimed to help
contextualise these finds and assess the potential of the remaining areas of
the site.
The evaluation revealed fragments of a domestic landscape dating to the late
Iron Age or more probably the Roman period in the western field 1. The area
had been heavily landscaped in modern times and it is possible that this may
have sealed archaeological remains. To the east, in field 2, archaeological
remains were very sparse with just one probable post-medieval ditch being
identified. No evidence was found to suggest that the known post-medieval
cemetery to the immediate north-east of the site extended into this area.
Based on the results of the evaluation the western area of the site within
Trenches 1-6 is considered to have been a focus of late Iron Age/Romano-
British activity.
Actions (login required)