Allen, Martyn and Champness, Carl A Roman double-ditched enclosure at Leicester Road, Melton Mowbray Archaeological Excavation Report. [Client Report] (Unpublished)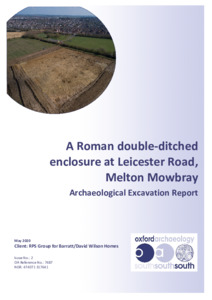 Preview
PDF




X_A6_2019.pdf


Download (12MB) | Preview
Abstract
Excavation by Oxford Archaeology in 2018 on the site of a proposed housing
development at Leicester Road, to the west of Melton Mowbray, revealed the
remains of a Romano-British double-ditched rectilinear enclosure. The enclosure
was identified during previous geophysical survey and evaluation trenching of
the site, which also detected the remains of a larger, possibly nucleated Iron Age
settlement that lay within the development boundary about 300m to the north.
Investigation of the Iron Age settlement has been undertaken independently of
the excavation of the Romano-British enclosure.
Pottery from the enclosure dates the period of occupation at the site to the 2nd
and 3rd centuries AD, and it was likely abandoned around the turn of the 4th
century. Initially, the distinctive plan of the enclosure gave the impression that it
was unusual in a settlement context and, thus, possibly had a ritual/religious
function. However, features within the enclosure were fairly limited and there
was no evidence that the enclosure was a shrine. Artefacts were comparatively
lacking and there was no sign of structured deposits or votive finds that might
suggest a ritual site. Instead, charred plant remains indicated that cerealprocessing
was a primary concern of the inhabitants, while the more-limited
animal bone assemblage supported the interpretation of a small, if slightly
enigmatic farmstead. There was evidence that local arable cultivation was
expanding onto the less-fertile heavy clays nearby and there were also signs that
hay meadows may have been managed for livestock husbandry.
Overall, the site is significant in a regional context. Its plan is fairly unique if not
unknown, but it importantly contributes to understanding of settlement types
around Melton Mowbray and potentially within the wider hinterland
surrounding the civitas capital at Leicester (Ratae Corieltavorum) during the
middle Roman period.
Actions (login required)