Knight, Toby (2020) Land North of Burstall Lane, Sproughton, Suffolk. [Client Report] (Unpublished)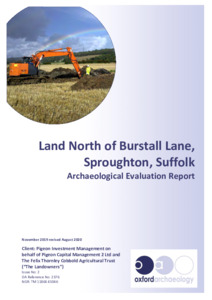 Preview
PDF




OAE_Report 2376_XSFBUS19_FINAL_LR.pdf


Available under License Creative Commons Attribution Share Alike.
Download (8MB) | Preview
Abstract
Between the 27th August and the 13th September 2019, Oxford Archaeology East (OA East) conducted a programme of archaeological evaluation at Land off Burstall Lane, Sproughton, Suffolk (TM 11864 45046). A total of 76 trenches were excavated within a proposed development area of c.10.94ha of agricultural land three miles west of central Ipswich, on the western side of the Gipping valley.
Evidence for prehistoric activity was found in three areas. In the south-western part of the site, a previously recorded cropmark of a ring-ditch, with a diameter of c. 25m, was exposed in Trench 5, confirming the presence of this feature and exposing a fairly substantial ditch on both sides of the ring-ditch, although no finds were recovered. A second ditch was exposed on the western side of the ring-ditch – this may represent an outer ditch or associated feature, although it is also possible that it is associated with Iron Age activity in nearby Trench 75 as two sherds of Iron Age pottery came from its upper fill.
Evidence for Iron Age activity was also revealed in two other trenches. In the south-western part of the site (Trench 75), close to the ring-ditch, a pair of intercutting pits were found associated with a fairly substantial assemblage of Early Iron Age pottery and fired clay, whilst in the eastern part of the site (Trench 45) the corner of a probable enclosure ditch was revealed, which produced an assemblage of Middle Iron Age pottery.
Across the site, a series of undated ditches were exposed: these were mostly aligned broadly east-to west or north to south and are probably comparable to similarly aligned field systems known as cropmarks from the surrounding area. A small number of modern pits and boundary ditches were recorded in several trenches in the eastern part of the site.
Item Type:
Client Report
Uncontrolled Keywords:
Evaluation, evaluation, archaeological evaluation, Suffolk, suffolk, Sproughton, sproughton, Bronze Age, bronze age, Iron Age, iron age, Early Iron Age, early iron age, Middle Iron Age, middle iron age, Pottery, pottery, pot, ceramic, sherd, vessel, Iron Age pottery, iron age pottery, Early Iron Age pottery, early iron age pottery, Middle Iron Age pottery, middle iron age pottery, animal remains, animal bone, animal bones, bone, bones, flint, flints, worked flints, worked flint, lithic, lithics, lithic implement, lithic implements, Palaeolithic, fired clay, lining, fired clay lining, ditch, ditches, pit, pits, ringditch, ring ditch, ring-ditch, boundary, boundary ditch, 2376, report 2376, Report 2376, OAE report 2376
Subjects:
Geographical Areas > English Counties > Suffolk
Period > UK Periods > Bronze Age 2500 - 700 BC > Early Bronze Age 2500 - 1500 BC
Period > UK Periods > Iron Age 800 BC - 43 AD > Early Iron Age 800 - 400 BC
Period > UK Periods > Iron Age 800 BC - 43 AD
Period > UK Periods > Iron Age 800 BC - 43 AD > Middle Iron Age 400 - 100 BC
Period > UK Periods > Palaeolithic 500 000 - 10 000 BC
Divisions:
Oxford Archaeology East
Depositing User:

Hamilton

Date Deposited:
10 Sep 2020 06:30
Last Modified:
10 Sep 2020 06:30
URI:
http://eprints.oxfordarchaeology.com/id/eprint/5824
Actions (login required)