Ladd, Stuart and Mortimer, Richard (2018) Late Iron Age and Roman Features, a Roman and Early Saxon Cemetery, and Middle Saxon Features, Hatherdene Close, Cherry Hinton, Cambridge. [Client Report] (Unpublished)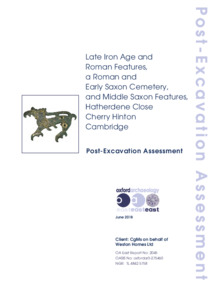 Preview
PDF




CAMHATPX_PXA_v2_LR.pdf


Available under License Creative Commons Attribution Share Alike.
Download (7MB) | Preview
Abstract
Between July 1st and October 22nd 2016, Oxford Archaeology East (OAE) excavated the field west of Hatherdene Close, Cherry Hinton, Cambridge (TL 4842 5758). Previous evaluation had revealed a prehistoric crouched burial, Late Iron Age and Roman ditches, an Early Roman funerary enclosure and cremation burials, and at least 125 Early Anglo-Saxon inhumation burials.
Excavation revealed a single 3rd-2nd century BC pit in the west of the site. Ditches across the northern edge of site surrounded a possible spring and appeared to be of Late Iron Age to Early Roman date. A number of small Early Roman kilns and a well lay nearby.
An Early/Middle Roman funerary enclosure formed the southern focus of the site. Associated with this was an Early/Middle Roman burial, aligned with five Middle Roman cremations, one within a small square, ditched enclosure, and a rich probable double inhumation (heavily disturbed or robbed) within a larger square enclosure. Two Late Roman cremations augmented this cemetery complex. The cremations were contained in vessels and, in one case, a box and were accompanied by ancillary vessels including flagons, samian dishes and a box with a lock. Both inhumations appeared to have involved a casket/coffin or similar wooden construction.
Throughout the later 5th to 6th centuries, the Roman cemetery became the focus of an organised Early Anglo-Saxon inhumation cemetery, with 126 in situ skeletons being excavated. Many contained grave goods, including brooches, wrist clasps, a chatelaine, bead necklaces, dress items including buckles, knives, partial or complete pottery vessels, spearheads and ferrules, shield bosses, and a glass claw beaker. One unusual find was a possible Bronze Age cup placed in an Early Anglo-Saxon grave. There is little indication of items post-dating c. AD 560 with a minority having a potential 7th century date. Although generally typical of Cambridgeshire, some items are more commonly found in Kent or the continent and point to links further afield, possibly suggestive of a mixed population with possible recent migrants.
The most striking aspect of the cemetery is the high number of burials with plots being re-used for multiple and 'stacked' burials. In addition to this, there was a degree of disturbance or possible robbing not attributed to re-use and consistent with other cemeteries of the period. Although most burials conformed to a south-west to north-east alignment, notable variations point to possible changing practices or differential burial customs. Two burials were contained within small, round barrow ditches and were slightly later in the sequence but appear to be relatively early examples of Anglo-Saxon barrow burials.
A rare feature (perhaps unique, for the period) was the presence of a timber structure that may have been integral with the cemetery and with a possible path leading from it through the cemetery.
Middle Saxon features in the form of a ditch and pits appeared to represent the western limits of the previously published Church End settlement. Ipswich ware sherds and worked bone objects represented typical finds from the period. A single Late Saxon pit was present. A large two-phase post-Roman but undated ditch crossed the north of the site.
Item Type:
Client Report
Uncontrolled Keywords:
Excavation, excavation, archaeological excavation, Cambridgeshire, cambridge, Cherry Hinton, cherry hinton, Hatherdene Close, hatherdene close, Cemetery, cemetery, burial, burials, inhumation, cremation, Roman, roman, Early medieval, early medieval, Anglo-Saxon, anglo-saxon, Anglo Saxon, anglo saxon, Pottery, pottery, pot, ceramic, sherd, vessel, Roman pottery, roman pottery, Early medieval pottery, early medieval pottery, Anglo-Saxon pottery, anglo-saxon pottery, Anglo Saxon pottery, anglo saxon pottery, Iron Age pottery, iron age pottery, Late Iron Age pottery, late iron age pottery, HSR. hsr, Human Remains, human remains, human bones, human bone, bone, bones, neonate, cremated remains, urn, urned, Urned, Urned Cremation, urned cremation, cremated bones, cremated bone, Roman Cremation, roman cremation, Roman cremation, cremation cemetery, inhumation cemetery, spear, spearhead, boss, shield boss, seax, knife, handle, knife handle, animal bone, animal bones, animal remains, brooch, small long brooch, penannular brooch, penannular, annular, annular brooch, bead, beads, pin, pins, jet, jet pin, ring, buckle, wrist clasp, girdle hanger, key, beaker, glass, glass beaker, coin, coins, CBM, cbm, Ceramic Building Material, ceramic building material, comb, combs, worked bone, pin beater, ecofacts, ecofact, pit, pits, ditch, ditches, enclosure, ditch, boundary boundaries, boundary ditch, ditched enclosure, well, gully, furrow, ridge and furrow, kiln, birch bark tar, C14, C14 dating, radiocarbon date, radiocarbon dating, parasite, parasites, intestinal worm, intestinal worms, CPR, cpr, charred plant remains, Charred Plant Remains, mortuary enclosure, square barrow, square barrow ditch, 2045, report 2045, Report 2045, OAE report 2045
Subjects:
Geographical Areas > English Counties > Cambridgeshire
Period > UK Periods > Early Medieval 410 - 1066 AD
Period > UK Periods > Iron Age 800 BC - 43 AD
Period > UK Periods > Iron Age 800 BC - 43 AD > Late Iron Age 100 BC - 43 AD
Period > UK Periods > Post Medieval 1540 - 1901 AD
Period > UK Periods > Roman 43 - 410 AD
Divisions:
Oxford Archaeology East
Depositing User:

Hamilton

Date Deposited:
23 Sep 2020 07:37
Last Modified:
23 Sep 2020 07:37
URI:
http://eprints.oxfordarchaeology.com/id/eprint/5828
Actions (login required)