Oxford-Wessex, Archaeology (2017) Digging at the Gateway from prehistory to Caesar and beyond. The archaeology of the East Kent Access Road, Thanet. Other. Oxford-Wessex Archaeology.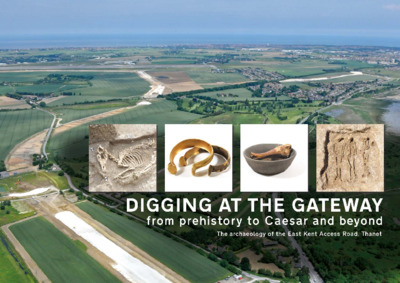 Preview
PDF




Digging-at-the-Gateway.pdf


Download (4MB) | Preview
Abstract
Popular publication.
For thousands of years East Kent has been a
gateway for new peoples, new cultures, new
ideas and for trade. Kent County Council's (KCC)
construction of a new road link, the second
phase of the East Kent Access (EKA2), on
the south side of the Isle of Thanet provided
a rare opportunity to undertake large-scale
investigations of this important archaeological
landscape.
The Oxford Wessex Archaeology (OWA)
joint venture, at times involving over 150
archaeologists, undertook a series of
excavations, covering 48 hectares, along the
The new road runs eastwards along the chalk
ridge occupied by Manston Airport, then
southwards down the scarp slope and onto
the low-lying Ebbsfleet peninsula, a spur of
land projecting south into the former Wantsum
Channel, with a branch of the road continuing
eastwards north of Cliffs End. Thanet,
effectively an island from the Early Bronze
Age until the 15th century AD, is now joined
to the mainland following the silting up and
reclamation of the Wantsum Channel.
6.5-kilometre route. These revealed a wealth
of archaeological evidence spanning the
Palaeolithic to the Second World War.
Actions (login required)