Greef, Andrew (2019) Late Saxon to Medieval Remains at Ferrars Road, Huntingdon, Cambridgeshire. [Client Report] (Unpublished)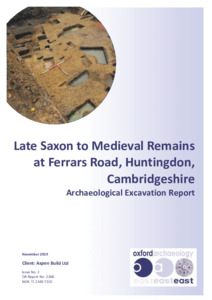 Preview
PDF




HUNFER16EX_Report_2368_LR.pdf


Available under License Creative Commons Attribution Share Alike.
Download (7MB) | Preview
Abstract
Between May and June 2017 Oxford Archaeology East conducted an archaeological excavation on land adjacent to Ferrars Road, Huntingdon (TL 2349 7210). The works comprised two open area excavations, one located at the intersection between Ferrars Road and Dryden's Walk (Area 1) and the other positioned to the north of this, at a distance of approximately 20m from the Ermine Street frontage (Area 2).
Five phases of activity were identified, spanning the Late Saxon to early post-medieval periods, but predominantly dating to the medieval period. In Area 1, backyard activity (including pits, a possible structure and fence lines) relating to plots fronting onto Ferrars Road (previously Woolley Way) was revealed along with a series of boundary ditches. Two of the latter lay parallel to Dryden's Walk and may possibly have formed part of the medieval town boundary. Although smaller in size, Area 2 contained a dense concentration of features, including boundary ditches and the remains of two timber structures, representing the south-west extent of properties fronting Ermine Street. Numerous pits were revealed, some of which produced domestic waste and debris associated with butchery/animal processing. Notably one of the later medieval pits contained an exceptionally well-preserved mineralised assemblage, including remains of fruits and herbs as well as fish bones and is interpreted as a cess or latrine pit.
From at least the 15th century onwards it would appear that very little activity took place on the site, reflecting that this marginal area of the town was largely abandoned and presumably reverted to open fields. Due to the thickness of the subsoil there was limited disturbance from the Edison Bell factory, aside from large concrete footings which were left in situ.
The character and date of activity revealed by the excavation is broadly comparable with that recorded immediately to the north during the Link Road (ECB3573) and the Edison Bell Way excavations (ECB4627). Combined, these sites can help to cast light on the initial colonisation and subsequent development of this area of Huntingdon (known as 'Balm Hole' or 'Balmshole') and how this seems to have reflected the wider fate of the town.
Item Type:
Client Report
Uncontrolled Keywords:
Cambridgeshire, cambridgeshire, Huntingdon, huntingdon, Excavation, excavation, Early medieval, early medieval, Medieval, medieval, Pottery, pottery, pot, ceramic, sherd, vessel, Early medieval pottery, early medieval pottery, Medieval pottery, medieval pottery, animal remains, animal bone, animal bones, bone, bones, nail, nails, CBM, cbm, Ceramic Building Material, ceramic building material, Tile, tile, ecofact, ecofacts, seeds, seed, pit, pits, cess pit, post hole, posthole, post holes, postholes, post-built structure, structure, structures, beam slot, beam slots, beamslot, beamslots, timber, timber structure, timber structures, frontage, road, ditch, ditches, boundary, boundaries, boundary ditch, town boundary, town boundary ditch, animal processing, butchery, butchery waste, Balm Hole, Balmshole, mineralisation, fenceline, fence line, backyard, back yard, back premises, 2368, report 2368, Report 2368, OAE report 2368
Subjects:
Geographical Areas > English Counties > Cambridgeshire
Period > UK Periods > Early Medieval 410 - 1066 AD
Period > UK Periods > Medieval 1066 - 1540 AD
Divisions:
Oxford Archaeology East
Depositing User:

Hamilton

Date Deposited:
18 Sep 2020 06:42
Last Modified:
18 Sep 2020 06:42
URI:
http://eprints.oxfordarchaeology.com/id/eprint/5831
Actions (login required)