Oxford, Archaeology The Nighthawking Survey. Other. Oxford Archaeology & English Heritage.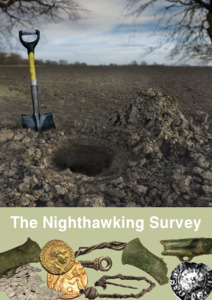 Preview
PDF




Night-Hawking-Survey.pdf


Download (7MB) | Preview
Abstract
Nighthawking is the illegal search for
and removal of antiquities from the
ground using metal detectors, without
the permission of the landowners, or
on prohibited land such as Scheduled
Monuments. Nighthawking is therefore
theft.
Nighthawks are not to be confused with
responsible metal detectorists. It is clear
that many metal detectorists follow good
practice guidelines, record and/or report
their finds, abide by the Treasure Act
(1996) and are valued contributors to
archaeological understanding.
This report uses the general term
'Nighthawks' to refer to those who
illegally metal detect. Its use is intended
to emphasise the distinction between
illegal metal detectorists and law abiding
metal detectorists. It is not
meant to imply either that the activities
of Nighthawks are restricted to hours
of darkness, or that law-abiding metal
detecting can only take place during
the day.
Actions (login required)