Fairbairn, James and Blackbourn, Kathryn and Clarke, Graeme (2019) Prehistoric, Saxo-Norman and Early-High medieval activity at Scotsdales Garden Centre, Fordham. [Client Report] (Unpublished)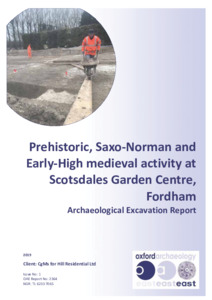 Preview
PDF




OAE_Report2364_FORSGC19_LR.pdf


Available under License Creative Commons Attribution Share Alike.
Download (9MB) | Preview
Abstract
Between the 21st January and 26th April 2019 Oxford Archaeology East (OA East) carried out excavations at Scotsdales Garden Centre, Fordham, Cambridgeshire. In total c.1ha was investigated by three areas of excavation (Areas A to C).
Two minor episodes of later prehistoric activity were excavated. A Later Neolithic arrow-making event was evidenced by a small scatter of flints excavated from a buried soil contained within a natural hollow in Area C. An isolated Late Bonze Age pit was encountered in Area A which produced an assemblage of Post Deverel-Rimbury Plainware tradition pottery, flintwork and cattle bone.
Significantly, the excavation of Area C uncovered a series of enclosures centred on a network of gullies which probably represent a Saxo-Norman (c.AD1066-1150) agricultural complex. The recovery of large charred cereal grain assemblages along with fired clay fragments from this complex strongly suggests crop processing activity, specifically those activities involving heat such as corn-drying. Although there was no evidence for in situ burning, corn-drying ovens may have been constructed above ground in the rectangular plots of land defined by the gullies. This processing area and associated enclosures appear to have fallen out of use by the early medieval period.
In the northern part of the development site, Areas A and B uncovered an early medieval (c.1150-1400) boundary ditch which corresponds to the later division plotted on historical maps of Fordham between West Fen Crofts and Holders Crofts. At some point during the early to high medieval period there appears to have been a change in land use when new enclosure boundaries were cut which truncated, but also respected, the earlier boundary alignment. This reorganisation incorporated a large watering hole which suggests pastoral farming activity. Around the end of the medieval period the site lay within a zone of quarrying activity to extract the underlying chalk.
The remains uncovered by the excavation are of local and regional significance. Saxo-Norman remains related to arable agriculture have been documented that may shed some light on crop processing activities being carried out in Fordham during this period. The early to high medieval remains provide an important insight into the early medieval origins and evolution of land use within two crofts within the immediate hinterland of the village.
Item Type:
Client Report
Uncontrolled Keywords:
Excavation, excavation, archaeological excavation, Cambridgeshire, cambridgeshire, Fordham, fordham, Neolithic, neolithic, Late Neolithic, late neolithic, flint, flints, lithic, lithics, worked flint, worked flints, lithic implement, lithic implements, flint working, flint scatter, Bronze Age, bronze age, Late Bronze Age, late bronze age, Pottery, pottery, pot, ceramic, sherd, vessel, Bronze Age pottery, bronze age pottery, Late Bronze Age pottery, late bronze age pottery, Post Deverel-Rimbury Plainware, post deverel-rimbury plainware, Medieval, medieval, Saxo-Norman, saxo-norman, Medieval pottery, medieval pottery, Saxo-Norman pottery, saxo-norman pottery, agriculture, arable, arable, farming, farming, agricultural, agricultural complex, gully, gullies, ditch, ditches, boundary, boundaries, boundary ditch, crop processing, corn drying, plot, plots, land plots, watering hole, quarry, quarrying, quarry pit, pit, pits, quarry pits, chalk, chalk quarry, CBM, cbm, Ceramic Building Material, ceramic building material, Brick, brick, animal bone, animal bones, animal remains, bone, bones, shell, shells, 2364, report 2364, Report 2364, OAE report 2364
Subjects:
Geographical Areas > English Counties > Cambridgeshire
Period > UK Periods > Bronze Age 2500 - 700 BC
Period > UK Periods > Bronze Age 2500 - 700 BC > Late Bronze Age 1000 - 700 BC
Period > UK Periods > Neolithic 4000 - 2200 BC > Late Neolithic 2700 - 2200 BC
Period > UK Periods > Medieval 1066 - 1540 AD
Period > UK Periods > Neolithic 4000 - 2200 BC
Divisions:
Oxford Archaeology East
Depositing User:

Hamilton

Date Deposited:
12 Oct 2020 09:25
Last Modified:
12 Oct 2020 09:25
URI:
http://eprints.oxfordarchaeology.com/id/eprint/5840
Actions (login required)