Atkins, Robert (2015) Medieval to modern remains at Newmarket Road, Barnwell, Cambridge. [Client Report] (Unpublished)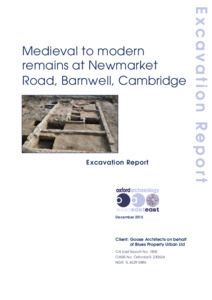 Preview
PDF




CAMNMR14_Report_1805_LR.pdf


Available under License Creative Commons Attribution Share Alike.
Download (4MB) | Preview
Abstract
Archaeological excavation by Oxford Archaeology East extending over 260.31m² was conducted at 132-136 Newmarket Rd, Barnwell, Cambridge (TL 4629 5886) between 23rd September and 27th October 2014 in advance of 13 residential flats with four commercial spaces at ground floor. This work followed on from a trench evaluation within the site (Barlow and Thompson 2014). A post-excavation assessment reported on the potential of the site (Atkins 2015b).
Deeply stratified remains up to 1m deep were uncovered across the site. The earliest features dated from when the site was part of the lay settlement of Barnwell Priory. Two phases of medieval activity were found; with firstly from c.AD 1200 part of a post hole building with a hearth (Building 1) was found fronting onto Newmarket Road on the western side of the plot with a possible associated plot boundary ditch.
A further building may have fronted the road to the east (but did not survive), although behind this postulated building were contemporary pits. Building 1 went out of use by c.AD 1400, with late medieval pits seen cutting its remains. It is likely the other postulated building had also been removed. These two plots were replaced by a single one containing a large late medieval building within the middle of the plot (Building 2) and this may have been a manorial farmhouse. Its remains comprised a robbed wall, fragmentary remains of two clay floors abutting up to it on its eastern and western side. Within/cutting the floors were a hearth and a possible stone latrine feature. Further pits were contemporary with this building and one of these contained large quantities of charred plant remains.
The possible farmhouse probably survived immediately Post-Dissolution but was cut by a large quarry pit backfilled by AD 1600 containing large quantities of building demolition remains with notable tile collection but also materials from wooden buildings as well as some domestic artefacts. It this period there was a reduction in the quantity of features. The continuing former Barnwell Priory Estate possibly rebuilt their farm house directly to the west of the excavation area. Two well-made clunch walled features found in this part of the plot comprising a detached latrine complex which went out of use by the early 17th century, and a well backfilled in the 18th century. A small post hole backplot structure and a ditch also belonged to this phase. Features were not found dating to the mid or late 18th century, although there were fragmentary ground surface/cultivation layers presumably signifying this area had reverted to agricultural use perhaps caused by the fire of Barnwell (1731). At Enclosure it was recorded as empty and was used as part of a rick-yard area when it was sold in 1809.
In the post Enclosure period there was a dramatic increase in the quantity of features found. Remains of five early 19th century buildings were uncovered, two of which had dual use, comprising The Jolly Butchers which was both a butchers and a pub, and the other being both a grocers and a baker. Three domestic buildings were also found, with one surviving in good condition with brick floors, an internal chimney and an outside brick paved courtyard. Three pits dating to the 1820's, probably in the courtyard of the Jolly Butchers, contained notable assemblages especially clay pipe remains.
All five buildings seemed to have survived, albeit with some changes, to c.1969 when all were demolished for the widening of Newmarket Road. An industrial building was then constructed within the site.
Item Type:
Client Report
Uncontrolled Keywords:
Excavation, excavation, archaeological excavation, Cambridge, cambridge, Cambridgeshire, cambridgeshire, Newmarket Road, newmarket road, Barnwell, barnwell, Medieval, medieval, Post-Medieval, post-medieval, Post Medieval, post medieval, Modern, modern, Pottery, pottery, pot, ceramic, sherd, vessel, Medieval pottery, medieval pottery, Post-Medieval pottery, post-medieval pottery, Post Medieval pottery, post medieval pottery, Modern pottery, modern pottery, structure, structures, structural remains, floor, wall, floors, walls, building, buildings, post hole, post holes, post built, post-built, post built structure, post-built structure, CBM, cbm, Ceramic Building Material, ceramic building material, Tile, tile, brick, brick, floor brick, floor tile, clay pipe, clay pipes, clay tobacco pipe, buckle, nail, Butcher, butchers, pub, grocer, baker, bakery, animal bone, animal bones, animal remains, bone, bones, ecofact, ecofacts, cereal, grain, grains, cess, chimney, chimney brest, hearth, glass, glass, bottle, bottle, bottles, boundary, boundary ditch, plot, plot boundary, plot boundary ditch, lay settlement, Barnwell Priory, barnwell priory, farmhouse, manorial farmhouse, farm house, house, farm, clay floor, tiled floor, bricked floor, brick floor, latrine, cultivation, backyard, clunch, clunch wall, clunch walls, demolition, demolition layer, demolition material, courtyard, paved, paved courtyard, internal chimney, domestic, domestic building, 1805, report 1805, Report 1805, OAE report 1805
Subjects:
Geographical Areas > English Counties > Cambridgeshire
Period > UK Periods > Medieval 1066 - 1540 AD
Period > UK Periods > Modern 1901 - present
Period > UK Periods > Post Medieval 1540 - 1901 AD
Divisions:
Oxford Archaeology East
Depositing User:

Hamilton

Date Deposited:
13 Oct 2020 13:00
Last Modified:
13 Oct 2020 13:00
URI:
http://eprints.oxfordarchaeology.com/id/eprint/5842
Actions (login required)