Allen, Martyn and Booth, Paul and Boardman, Sheila and Cotter, John and Donnelly, Mike and Dungworth, David and Nicholson, Rebecca and Scott, Ian and Shaffrey, Ruth ROMAN, MEDIEVAL AND POSTMEDIEVAL ACTIVITY AT ASHTON ST PETER'S LOWER SCHOOL, DUNSTABLE, BEDFORDSHIRE Publication report. [Client Report] (In Press)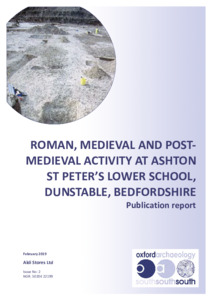 Preview
PDF




2004_111_2007Excavation.pdf


Download (6MB) | Preview
Abstract
In 2007 Oxford Archaeology (OA) was commissioned by Thurley Associates on
behalf of Aldi Stores Ltd to excavate a site at Ashton St Peter's Lower School in
Dunstable. The school was demolished in advance of the construction of a
supermarket. The excavation revealed features of Roman, medieval and postmedieval
date. The Roman phase was characterised by a series of ditches in the
northern part of the site with a scatter of pits and postholes found elsewhere. Much of
the Roman archaeology appears to have been truncated by medieval features,
particularly areas of quarrying. The most notable medieval remains comprised three
kilns (possibly used as malting ovens) and several wells. Post-medieval features were
mostly located in the southern part of the site, including part of a building that once
fronted Church Street. This structure appears to have been an end-of-terrace house, as
seen on early Ordnance Survey maps, though finds from the building suggest that its
origins probably lay in the 16th/17th century, though a late medieval construction
cannot be ruled out. Other features related to the early life of Ashton St Peter's School
which was built in the 19th century.
Actions (login required)